Local Profile: Cosmic Cacao
What began as a simple passion for chocolate has blossomed into a calling. Owner Katherine Ruth's idea to create Cosmic Cacao stemmed from a life-changing experience she had at a ritualistic cacao ceremony in California. At this communal gathering, she was introduced to cacao's metaphysical capacity to heal our body's heart chakra, resulting in improved feelings of happiness, love, compassion, and clarity of consciousness. The meditative effects of cacao have been used ceremonially for thousands of years by several Central and South American groups, including the Olmec, Aztecs, and Mayans. Katherine's experience during the cacao ceremony opened her mind and soul to the power of cacao as a plant-based medicine.
Operating for a little over a year, Cosmic Cacao is a local woman-owned and -operated business that produces small batch, handmade chocolates. All of their bars are made with intentionality, focusing on maintaining the integrity of high-quality ingredients while upholding ethical production standards. Each contains fair trade, organic cacao and maca (Peruvian Ginseng) sourced from a small farm in Peru. By sourcing fair trade ingredients, Cosmic Cacao supports the wellbeing of family farmers while ensuring they are fairly paid for their work and goods.
All Cosmic Cacao chocolate bars are free of dairy, soy, refined sugars, and gluten. To sweeten the cacao, each bar is infused with raw honey sourced from Minnesota producer Bare Honey. Other ingredients are added for their health benefits since they contain high levels of beneficial antioxidants, vitamins, and minerals. You'll find all three varieties of Cosmic Cacao's bars on co-op shelves, packaged in recyclable, locally sourced paper instead of plastic or aluminum.
---
Currently, Katherine handcrafts three unique bars at a commercial kitchen space in south Minneapolis. Find all three at Mississippi Market!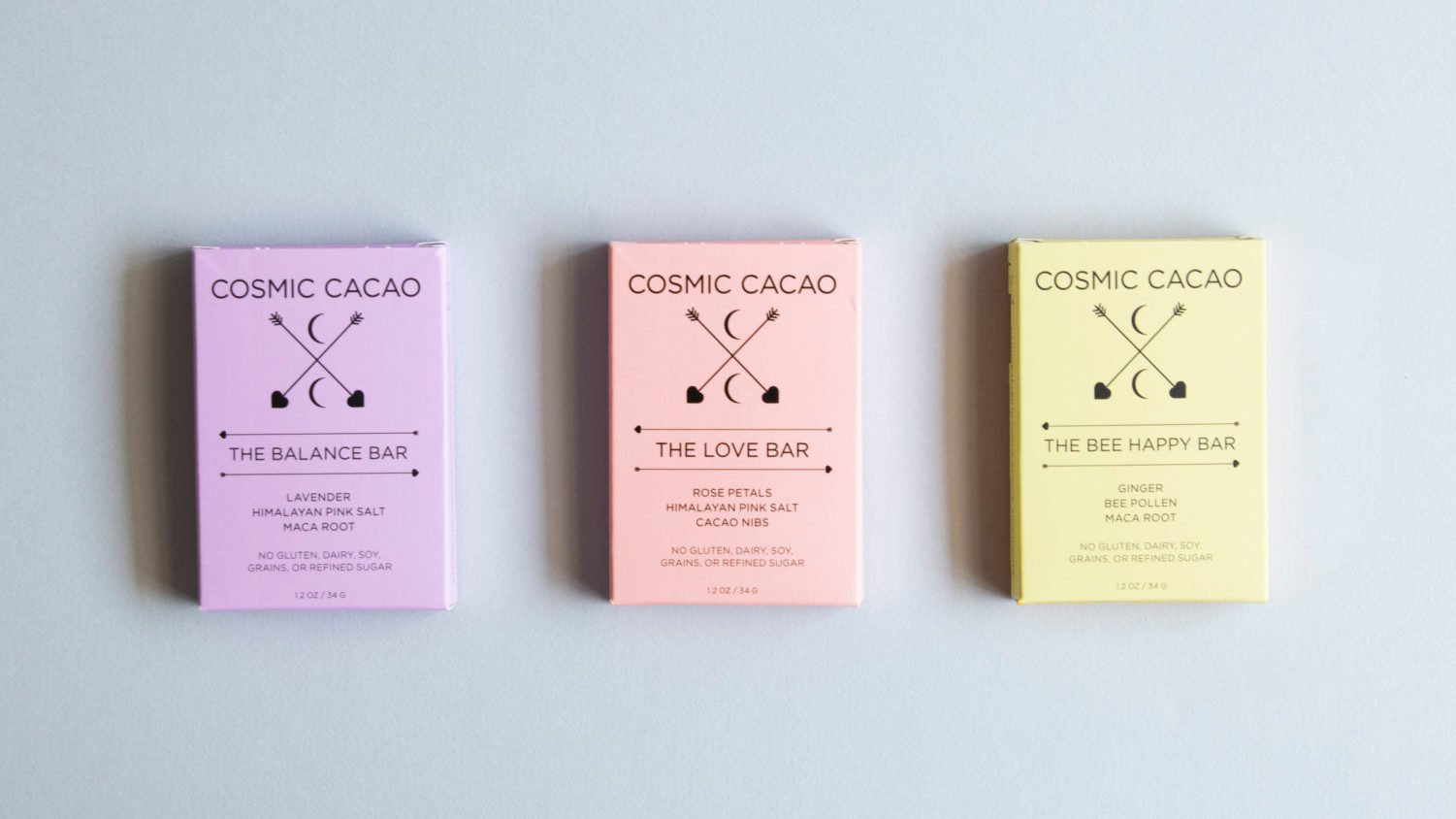 The Balance Bar – Lavender and Himalayan pink salt flavor this bar, which was created to provide a balanced sense of calmness, relaxation, and energy.
The Love Bar – Made to promote feelings of immense clarity, love, and joy, this bar is flavored with organic rose petals, vanilla, and Himalayan pink salt.
The Bee Happy Bar – This bar was created with your happiness in mind and is made to make you smile! Ginger root, bee pollen, and vanilla enhance the natural flavor of organic cacao.