Meet Roseline of Roseline's Candles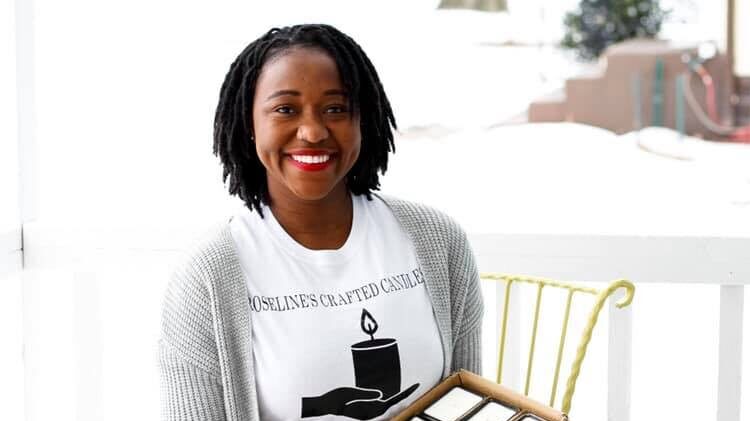 Roseline Friedrich didn't mean to become an entrepreneur. A social worker, case manager and mental health practitioner by trade, she needed something to help her unwind from her high-stress job. She turned to burning candles and began collecting the jars. In December 2019, she hosted a holiday party for people to come and make new candles with all the jars she had collected over the years.
"I wasn't doing it to become a business owner, I was doing it to be environmentally friendly," Roseline says. "My guests loved it. They told me, 'you need to have this as a business,' and they convinced me to get a social media account and a website. Whenever people needed candles, they would reach out to me because they couldn't go to the store anymore [during the pandemic] and because our candles are just different — they burn better and cleaner."
Roseline's Candles is committed to sustainability from production to shipment. Roseline explains, "We started our business because of a problem we saw, which was an abundance of jars that are made beautifully for candles but then don't get used again. So I was like, how do I address this problem? Pour more candles into them."
Their jars are made of recycled glass and are reused after customers finish the candles. They use natural essential oils, lead-free cotton wicks, and 100% soy wax made from soybeans from American farmers. "One of the keys to being a sustainable product is making sure that whatever you're making isn't something that's a brand-new item," Roseline says. "We're using leftover material from soybean oil that cannot be eaten. We're not reinventing the wheel here; we're just using what the planet already has to offer."
Roseline uses labels printed on recycled brown craft paper, and all packaging for shipments is plastic-free and compostable. "The boxes we get from the post office are made from recycled paper and they can be reused. The tape we use is compostable. Even the vendors in my store, Roseline's Place, must have some sort of sustainability in their statement or mission and in how they make their products."
---
Each candle purchase at the co-op includes a $1 glass deposit. After you've used up your candle, give us the empty container to receive your deposit back. Then we'll return the jar to Roseline to clean and reuse!