Springtime Barley Pilaf Recipe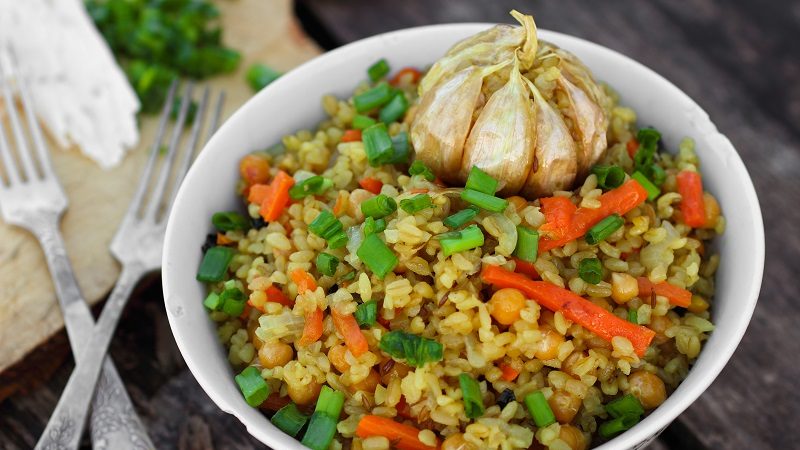 By Mississippi Market Chef Partner Kristin Hamaker of Goosefoot Kitchen
Let's think about barley beyond soup and give it another stage. This mild, toothsome grain is a perfect vehicle for the clean flavors of spring. This can be served as a main course, along with a green side salad and crusty bread, or can also be featured as a side dish to chicken or fish. Source your barley where I do, from my co-op's bulk department; this way you'll only need to buy the amount you need for now.
Chef's Note: You can always use hulled barley versus pearled barley, the difference being that hulled barley is a whole grain where pearled barley has been stripped of some of its properties. Hulled is nutritionally superior and will take twice as long to cook as pearled. Soak hulled barley overnight if you choose to use it, which should reduce the cooking time a bit.
Springtime Barley Pilaf with Chickpeas
Market List
Serves 3-4
4 cups vegetable stock (preferably homemade, or best quality)
1 cup pearled barley
1 small yellow onion or 1 bunch green onions, diced
1-2 garlic cloves, minced
1 carrot, diced
1 celery stalk, diced
1 small bunch asparagus, chopped
¾ cup spring peas, fresh or frozen
1-2 cups chickpeas, cooked
Fresh herbs, chopped (your choice of thyme, parsley, oregano, sage, rosemary, and mint)
2 Tbsp. butter or extra virgin olive oil
1 pinch Kosher or sea salt
1 pinch black pepper, freshly ground
Preparation
1. Bring 3 cups of vegetable stock (or in combination with water) to a boil in a medium saucepan. Rinse 1 cup pearled barley under cool water, drain, and stir it into the stock. Turn down the heat, partially cover the pan, and simmer gently for about 30 minutes, or until the grain has just cooked through (but still has a slight bite).
2. In the meantime, combine in a small bowl: diced yellow or green onions, minced garlic cloves, diced carrot, diced celery, and a few tablespoons of fresh chopped herbs. Put a large, heavy skillet over medium-low heat and add 2 tablespoons of butter or extra virgin olive oil. Stir in vegetables and toss in a good pinch of kosher or sea salt; slightly cover. Allow your vegetables to soften and lightly brown, roughly 5 minutes.
3. Snap woody ends off the bottom of asparagus, about an inch or so, and discard the ends. Cut your asparagus stalks into 1-inch pieces and set aside. Once your vegetables have browned, bring heat back to medium and add in chopped asparagus, ¾ cup of spring peas, and remaining cup of vegetable stock. Toss and cook until the vegetables are just tender and some of the stock has evaporated or been absorbed; add a pinch of freshly ground black pepper.
4. Once the barley has finished cooking, fluff it with a fork and drain any leftover liquid if necessary. Add it to the skillet with your vegetables, along with 1-2 cups cooked chickpeas and a little butter (or extra virgin olive, hazelnut, or walnut oil), and toss gently. Serve warm.
Pack any leftovers for lunch or reheat for another supper with an egg on top.
Notes & Variations
Substitute the barley with other grains if you like. Consider bulgur wheat, quinoa, or farro.
Other spring vegetables to consider adding, beyond asparagus and peas, are wilted greens — kale, spinach, or Swiss chard — and mushrooms.
Add color to this dish if you feel so inclined like diced red bell pepper to enhance the rainbow of colors.
Add some lemon or orange juice (per your taste), and/or the zest of either. I like to add some fresh chopped herbs, or a little some creamy tofu and herb sauce to finish.
Another complimentary condiment for this pilaf is a quick and easy homemade aioli (garlic mayo) or lemon or herb mayo. Substitute yogurt in for mayonnaise if you prefer.
Toasted nuts, such as pine nuts, walnuts or almonds, would also go well mixed in. A little shredded Parmesan would also make a fine finishing touch.