2021 Virtual Annual Member-Owner Meeting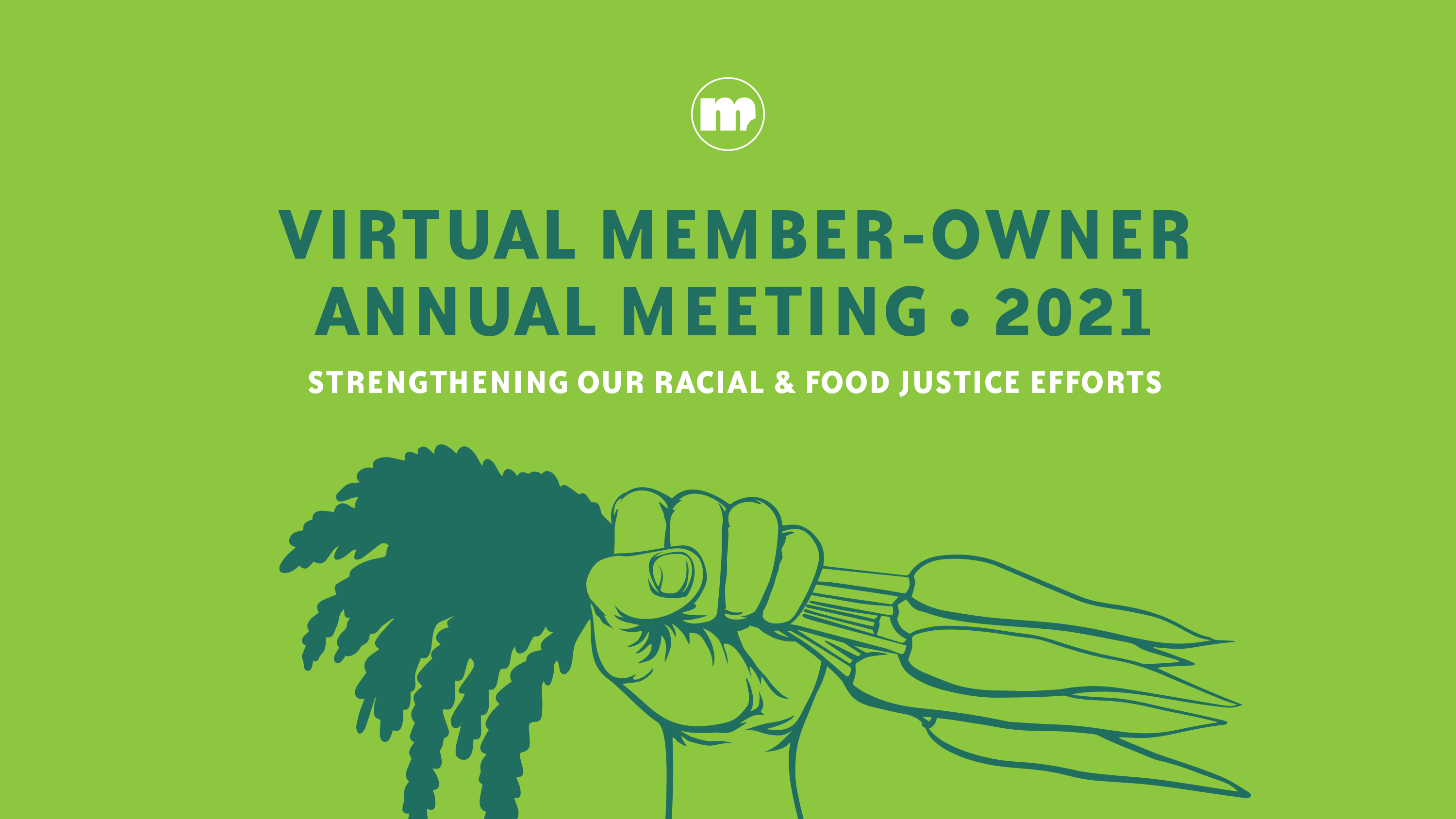 2021 Virtual Annual Member-Owner Meeting
October 20th at 6:00pm - 7:30pm
Location: Your Home
Through the immense challenges of 2020 and 2021, we have strengthened our connection as a co-op and deepened our commitment to food access and racial justice work. We recognize that this deeper commitment is an important step forward but an ongoing journey, as both the systemic injustices and pain of our community are not resolved.
For our annual meeting this year, we'll delve into the theme of strengthening the co-op's racial and food justice efforts further, with a featured presentation and discussion with Rose McGee from Sweet Potato Comfort Pie. We'll hear more about their mission to advance racial justice and equity, heal damage caused by race-based trauma and elevate marginalized voices and experiences.
FEATURING:
Featured guest speaker, Rose McGee of Sweet Potato Comfort Pie
Member engagement on racial and food justice efforts at the co-op
$10 co-op voucher provided to registered attendees — use to purchase ingredients to bake your own sweet potato pies!
Member-owner Q&A
Board election results
Co-op updates from the general manager and board of directors
Raffle prizes
____________________________________________________________________________________________
LOGISTICS:
Meeting details:
The Annual Member-Owner Meeting will be held online via Zoom. You will receive email reminders the week before, day before, and hour before the meeting begins with the information to join via Zoom. You will have the option to join via phone or computer.
Note: The meeting will also be recorded and available on our website for owners who are unable to attend the live event.
Co-op voucher:
Each registered household will receive a $10 co-op voucher as a thank you for joining us and a way to unite us together around good food while we are apart. We encourage you to use your voucher to purchase ingredients to bake Rose McGee's sweet potato pies or to purchase a meal to enjoy during the meeting. Check out this introduction video from Rose McGee with tips on making the sweet potato pie recipe for the first time.
Note: The voucher will be emailed to the household member completing the registration as long as you complete your registration before end of day on Oct. 18. The voucher is valid at all three store locations from Oct. 13-27, 2021.
Member engagement on racial and food justice:
We'll also engage member-owners in questions surrounding what justice efforts the co-op has made that you'd like to see more of and where the co-op has opportunities to improve.
Your input on these questions will be considered by both our board of directors and staff leadership as we implement a roadmap for our justice work in the year to come. We will report back to our community at our 2022 annual meeting on the actions taken as a result of your feedback.
Additional questions:
Please email us at info@msmarket.coop.