Co-op Community Conversations: Art + Abolition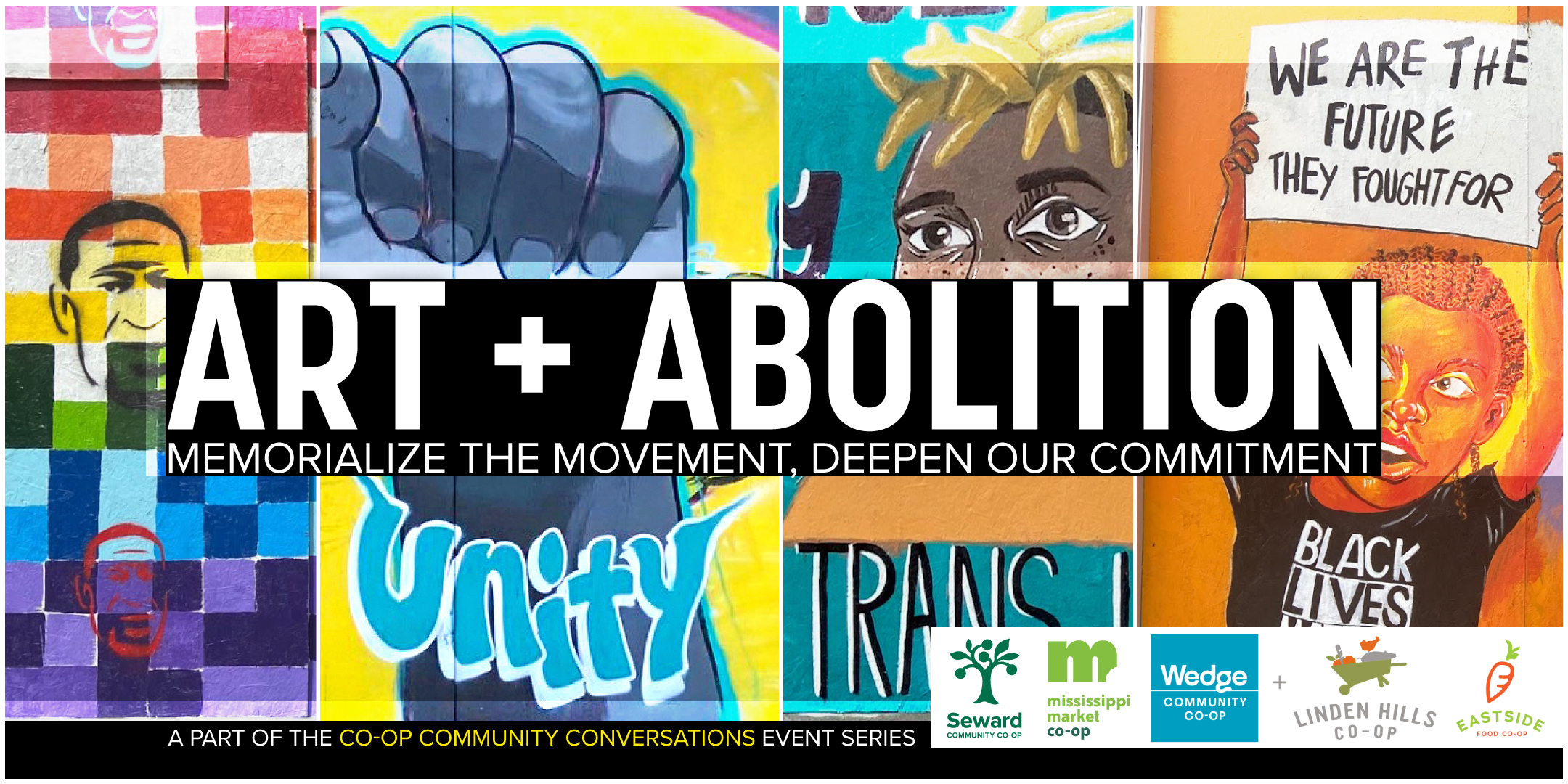 Co-op Community Conversations: Art + Abolition
June 24th at 6:00pm - 7:30pm
Location: Your Home or Seward Co-op
Please note the event date has changed from June 9 to June 24. 
______________________________________________________________________________________
The event series "Co-op Community Conversations: Exploring the intersection of racial, social, and food justice" is presented by Eastside Food Co-op, Mississippi Market Food Co-op, Seward Community Co-op, and Twin Cities Co-op Partners as a way to examine and connect our cooperative values with social justice movements. Stay tuned for future events in this series taking place throughout the year.
______________________________________________________________________________________
Through the summer of 2020, we experienced the way art can metabolize, mobilize, heal and inspire in the movement for racial justice. Join Eastside, Mississippi Market, Seward, and TCCP Co-ops as we honor and celebrate the protest art of this past year while deepening our commitment to racial justice in our community. 
On Thursday, June 24, from 6-7:30 p.m., join us outside of the Seward Co-op Franklin and Friendship stores for music, conversation with the artists, and opportunities to create art and signs you can bring to future community actions or display at your home. Muralists will be doing live painting and as co-op members, we will express our commitments to the movement in 2021 and beyond. 
The event will be livestreamed for those who are unable to or not comfortable attending the live event. The livestream will include conversations with Leesa, founder of Memorialize the Movement, Seward Co-op Board members, and some of the artists who shared their talents with our community. Following the event, the remaining 2020 murals will be officially donated to Memorialize the Movement.
Before the event, you can also download our free virtual Abolition Art Kit as a way to easily participate from home. This kit has resources and ideas for you and your family to create your own art at home as a reminder of your commitment to anti-racism in 2021 and beyond. Post a picture of the artwork creation you make at home to social media by June 30 with the hashtag #CoopArt4Abolition to be entered into a drawing for a $50 gift card to your co-op!