5-Ingredient Budget-Friendly Meals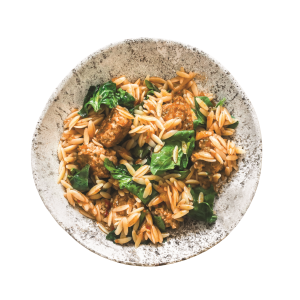 Chicken Sausage with Orzo
Ingredients
3 Italian-style chicken sausages, sliced
1 cup orzo
3 cloves garlic, minced
2 cups chicken broth
3 oz. fresh spinach
Instructions
Heat oil in a large nonstick skillet over medium-high heat. Add sausages and cook for 2 minutes per side until browned.
Add garlic and orzo and stir for 1-2 minutes until garlic is fragrant.
Add broth and season with salt and pepper to taste. Bring to a boil, reduce heat, cover and simmer for approximately 15 minutes, until liquid has been absorbed and orzo is cooked, stirring every few minutes.
Turn off heat and toss with spinach.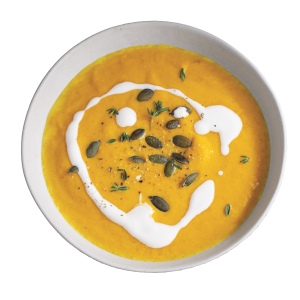 Coconut Pumpkin Soup
Ingredients
2 Tbsp. red curry paste
32 oz. vegetable broth
2 (15 oz.) cans pumpkin purée
13.5 oz. can coconut milk
1 large red chili pepper, diced
Instructions
Over medium heat, cook the curry paste in a large saucepan for 1-2 minutes. Add broth and pumpkin and stir.
Cook for about 5 minutes, stirring occasionally. Add coconut milk and cook for an additional 3 minutes.
Ladle into bowls and garnish with red chilis.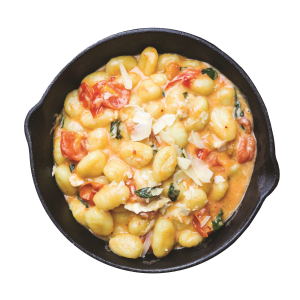 Turkey Gnocchi Skillet
Ingredients
1 lb. ground turkey
16 oz. potato gnocchi
5 cups cubed butternut squash
2 cups coconut milk
1 bunch kale, chopped with ribs removed
Instructions
Cook the gnocchi according to package instructions.
Heat skillet over medium heat. Add the butternut squash and half of the coconut milk to the pan and cover. Cook over medium-low heat for about 8-10 minutes, until the butternut squash is cooked, and remove from heat.
Add butternut squash mixture to a blender and the remaining half of the coconut milk — season with salt and pepper as desired. Blend until creamy, and set aside.
Add the turkey to the skillet and brown over medium heat. Add gnocchi and kale once browned and sauté together for 4-5 minutes.
Add the butternut squash mixture. Cook for 1-2 minutes. Remove the skillet from heat and serve.