Juneteenth Book Recs by Dr. Artika
Dr. Artika R. Tyner is a passionate educator, award-winning author, sought-after speaker, and advocate for justice. She is the founder of Planting People Growing Justice Leadership Institute, working to "plant people" while offering them key educational and learning opportunities. This organic process aims to cultivate a multicultural literary and leadership landscape that encourages both social and racial justice within individuals and communities.
Juneteenth is known as the United States' second Independence Day. The name Juneteenth symbolizes the significance of June 19, 1865, when federal troops arrived in Galveston, Texas, and shared the news that slavery had ended. Two and a half years earlier, President Lincoln's Emancipation Proclamation marked the end of slavery. However, the enslaved people of Texas never received the news. U.S. General Gordon Granger announced, "The people of Texas are informed that, in accordance with a proclamation from the Executive of the United States, all slaves are free."
Since Granger's decree, African Americans have gathered each year to celebrate Juneteenth and honor their ancestors. We eat a red dessert like red velvet cake and drink red hibiscus drinks to honor the sacrifices of our ancestors who lost their lives in the fight for freedom. Yet, this is also a time for everyone to recommit to our shared humanity and common destiny.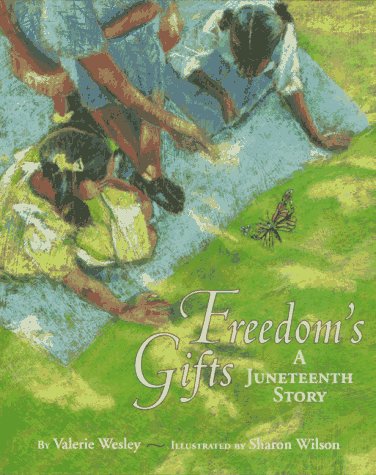 Freedom's Gift: A Juneteenth Story
by Valerie Wesley
With the help of their elderly Aunt Marshall, June and her cousin Lillie celebrate Juneteenth, the day Texas slaves found out they had been freed, two years after the Emancipation Proclamation.
Recommended because: This book challenges each of us to make a daily commitment to advancing racial justice. It is a reminder that ordinary people can have an extraordinary impact when they take a stand for justice.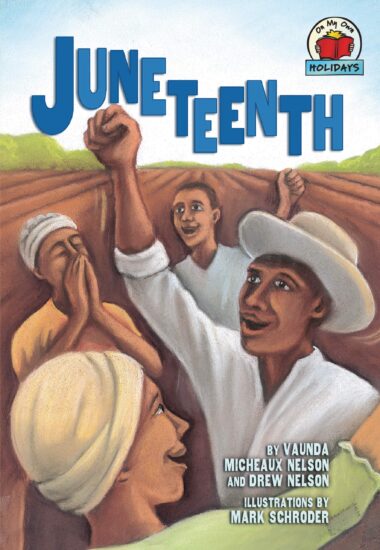 Juneteenth
by Vaunda Micheaux Nelson and Drew Nelson
June 19, 1865, began as another hot day in Texas. Enslaved African Americans worked in fields, in barns, and in the homes of the white people who owned them. Then a message arrived. Freedom! Slavery had ended! Still the joy of that amazing day has never been forgotten. Every year, people all over the United States come together on June 19 to celebrate the end of slavery. Join in the celebration of Juneteenth, a day to remember and honor freedom for all people.
Recommended because: This book provides the historical context of why Juneteenth is an important National Day of Remembrance of the historical injustices associated with chattel slavery, de jure segregation, and racial terrorism.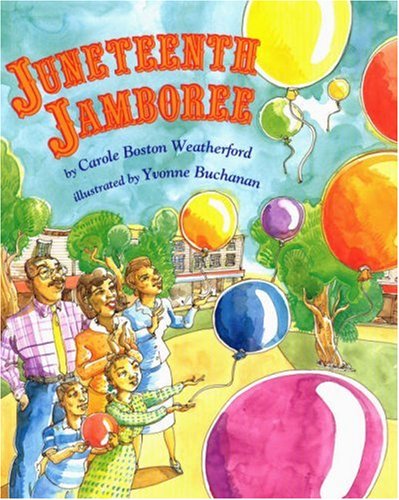 Juneteenth Jamboree
by Carole Boston Weatherford
It's a fine day in June. Cassandra's family has just moved from the city back to her parents' hometown in Texas. Cassie likes her new house, and her new school is okay, but Texas doesn't quite feel like home yet.
What Cassie doesn't know is that her family has a surprise for her — a Texas tradition. As she helps prepare red velvet cake, fried chicken, and piles of other dishes, she wonders what makes June 19 so important. It isn't until Cassie and her family arrive downtown that she discovers what the commotion is about. And, in the process, she realizes that she and her family have indeed come home.
Recommended because: This book serves as an invitation to a Juneteenth celebration. You will experience the momentous occasion with joy, peace and unity.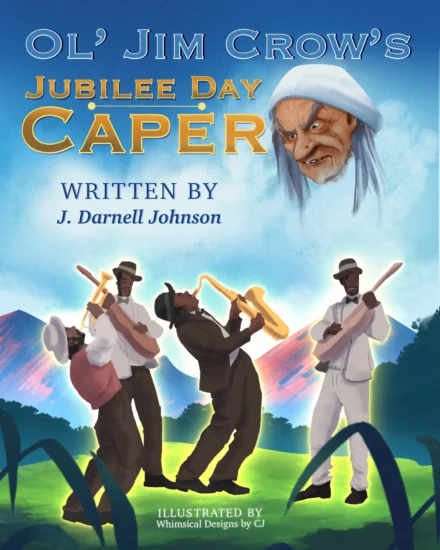 Ol' Jim Crow's Jubilee Day Caper
by J. Darnel Johnson
Introduce your children to the concepts of Jim Crow and Jubilee Day with this villain story where joy is the hero and Jim Crow is the villain. Jim Crow is up in a cloud contemplating how to eradicate Jubilee Day. He can't stand to hear the community sing while they dance and smile. The sight of all the red food people are eating fills him with rage. Yet, soon the community will celebrate no more. He has a plan to destroy the community's celebration and culture. Will he succeed?
Recommended because: This book explores how communities celebrate Juneteenth from performing skits that honor Black history to drinking red drinks, which symbolize the sacrifice of African Americans in the quest for freedom and justice.