Meet Artist Melodee Strong
The rotating BIPOC artist gallery at our West 7th store continues this fall with a new local artist, Melodee Strong. You can purchase her paintings through the end of December, with 100% of proceeds going directly to the artist.
"Melodee Strong grew up in St. Francis, MN. Her mother is from Lima, Peru and her father is from Brooklyn Center, MN. Her parents met and got married on the west coast shortly after her father served in the Vietnam War. They moved to Minneapolis when Melodee's mom was pregnant with her. Even though Melodee grew up in a rural community 45 minutes north of the Twin Cities, her parents made sure she had a well-rounded understanding of the world and city life. Melodee has adopted the identity as "Minneruvian" because she believes her personality and traditions are strongly influenced by both her Peruvian and Minnesotan heritage. She even has a Vikings poncho!

Melodee has been making art her entire life. Her first memory of wanting to be an artist was around 3rd grade. The closing credits of Good Times and the Ernie Barnes painting "Sugar Shack" as a backdrop to those credits is what prompted her trajectory into being an artist. However, it wasn't until she got into high school and met her lifelong teacher, mentor and friend, Lauri Svedberg, that she would know what to do with art as a career. Lauri encouraged Melodee to attend MCAD and pursue a career in illustration. Melodee also looked up to Lauri because not only was she a teacher but a practicing artist as well and Melodee wanted to do both.

Melodee received her Bachelor of Fine Arts degree from the Minneapolis College of Art and Design in Illustration and her Masters in Arts Education from the University of Minnesota. Her multifaceted practice as an artist allows her to create using a wide range of materials and techniques. Her portfolio largely consists of children's book illustration, portraiture, community outreach projects, and murals giving attention to diverse cultures, feminism, and social justice. Melodee has participated in many gallery exhibitions, book readings, as well as presented to an array of audiences throughout her career; including Target's Children's Book Festivals in Minneapolis, Los Angeles, New York, and Boston. Her illustrations have received awards from the Society of Illustrators Los Angeles and Society of Illustrators New York, and she received a Teacher's Choice, Mom's Choice, and Moonbeam Award for her illustrations in children's books. She has completed over 70 mural and large-scale projects in the Twin Cities and Jamaica. She is currently teaching visual art at Franklin Middle School in Minneapolis and is an adjunct instructor at MCAD, Augsburg, Metro State, and the U of M teaching courses in foundational art studies, K-12 Art Methods courses, and professional practice in illustration. She has recently earned The Minneapolis Educator Leadership Award from the Graves Foundation in 2020 and 2022."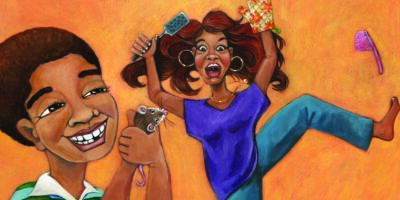 See more of Melodee's artwork on at www.melodeestrong.com and on her Instagram @mstrong73
---
Are you interested in being a future featured artist?
We'd love to hear from you! We are accepting applications on a rolling basis.