Meet Our Fall Featured Artist: Soon-Wai Wong
Illustration by Soon-Wai Wong
The rotating BIPOC artist gallery at our West 7th store continues this quarter with a new local artist, Soon-Wai Wong. You can purchase his original pieces or prints at the register now through the end of December, with 100% of the proceeds going directly to Soon-Wai.
Soon-Wai specializes in portraits of places. Favorite vacation photos, landscapes and buildings can be transformed into a dynamic, gestural painting or drawing of memories. An intuitive artist, Soon-Wai creates his own methods for observing perspective. His drawings often feature layered, energetic line-work. He began his studio practice by creating small illustrations of his favorite subjects: classic cars and cityscapes. When he decided to focus his drawings on the personal subject of his travels, his work began to grow in both complexity and scale. It is almost as though the architecture is the main character, with people in positions of transience, moving in and out of focus.
Support Soon-wai's work by shopping at our West 7th store and selecting your favorite prints. If your wall spaces are currently full, consider gifting these unique pieces of art to friends or family!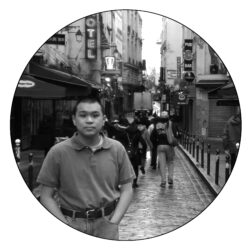 Soon-Wai Wong is a Fresh Eye Artist. Fresh Eye Arts is a fine arts program that supports artists with disabilities in the Twin Cities metro area. They provide the opportunity for artists to explore, learn, create, show and sell their work through specialized programming. Learn more at fresheyearts.org.
---
Are you interested in being a future featured artist?
We'd love to hear from you! We're accepting applications on a rolling basis for the 2023 gallery.