Reusing & Recycling Holiday Items
Common holiday items such as wrapping paper, string lights and artificial trees end up in the landfill each year. Here are some eco-friendly tips to keep in mind as you plan for upcoming celebrations. And when it's time to clean up afterward, use the resources below to reuse and recycle what you can.
Holiday Prep

Décor
Consider decorating with natural, biodegradable items such as real pine branches, pine cones, dried citrus slices, and live poinsettias and other festive houseplants.
Giftwrap
Many wrapping papers aren't recyclable. Consider placing gifts in reusable fabric bags or glass jars, or wrapping them in reusable fabric, kraft paper or repurposed paper grocery bags. Simple brown paper makes a great canvas for doodling to add a personal touch to your giftwrap!
Food
If you're figuring out how to plan a smaller-than-usual holiday meal, Save the Food's Guest-imator Tool can help.
Save vegetable scraps and meat bones for the freezer, so you can make homemade stock down the road.
Freeze leftovers if you can. For food that goes uneaten, aim to compost it instead of tossing it in the trash.
Holiday Cleanup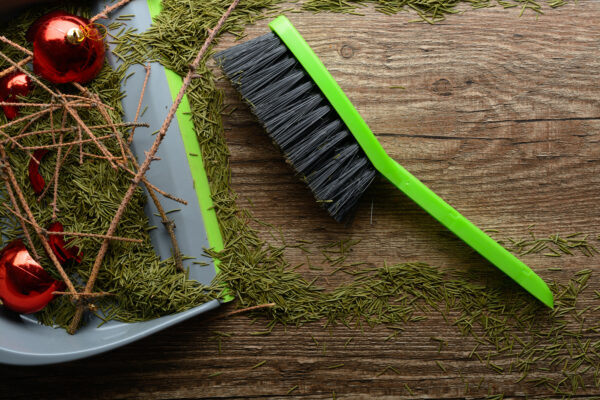 Broken String Lights
Don't throw these in the trash! They can't go in your regular ole recycling bin, either, but that doesn't mean they can't be recycled.
Tip: Most string lights come with replacement fuses and spare bulbs. Before bringing them in to be recycled, check to see if you can repair and continue using them first.
Artificial Trees
Unfortunately, these usually end up in the landfill. According to dumpsters.com, "artificial trees are often made with polyvinyl chloride (PVC), which isn't recyclable and won't break down in a landfill. Also, most artificial trees are built with decorative fibers that are glued or otherwise fixed to metal frames, which can't be recycled." If you need to get rid of your tree, see if you can donate it to a local charity or nursing home; ask friends, family and neighbors if they would like it; or try to give it away on Facebook Marketplace.
You can also repurpose parts of the tree, to reduce how much of it gets thrown away. Cut off branches (be sure they're free from lights or electrical wiring) and reshape them into centerpieces, napkin rings, mantle decorations, wreaths and more.
Live Trees
Turn your tree into mulch by bringing it to one of these Ramsey County yard waste collection sites: Arden Hills, Frank and Sims, Midway or White Bear Township.