Mississippi Market's Annual Meeting and Celebration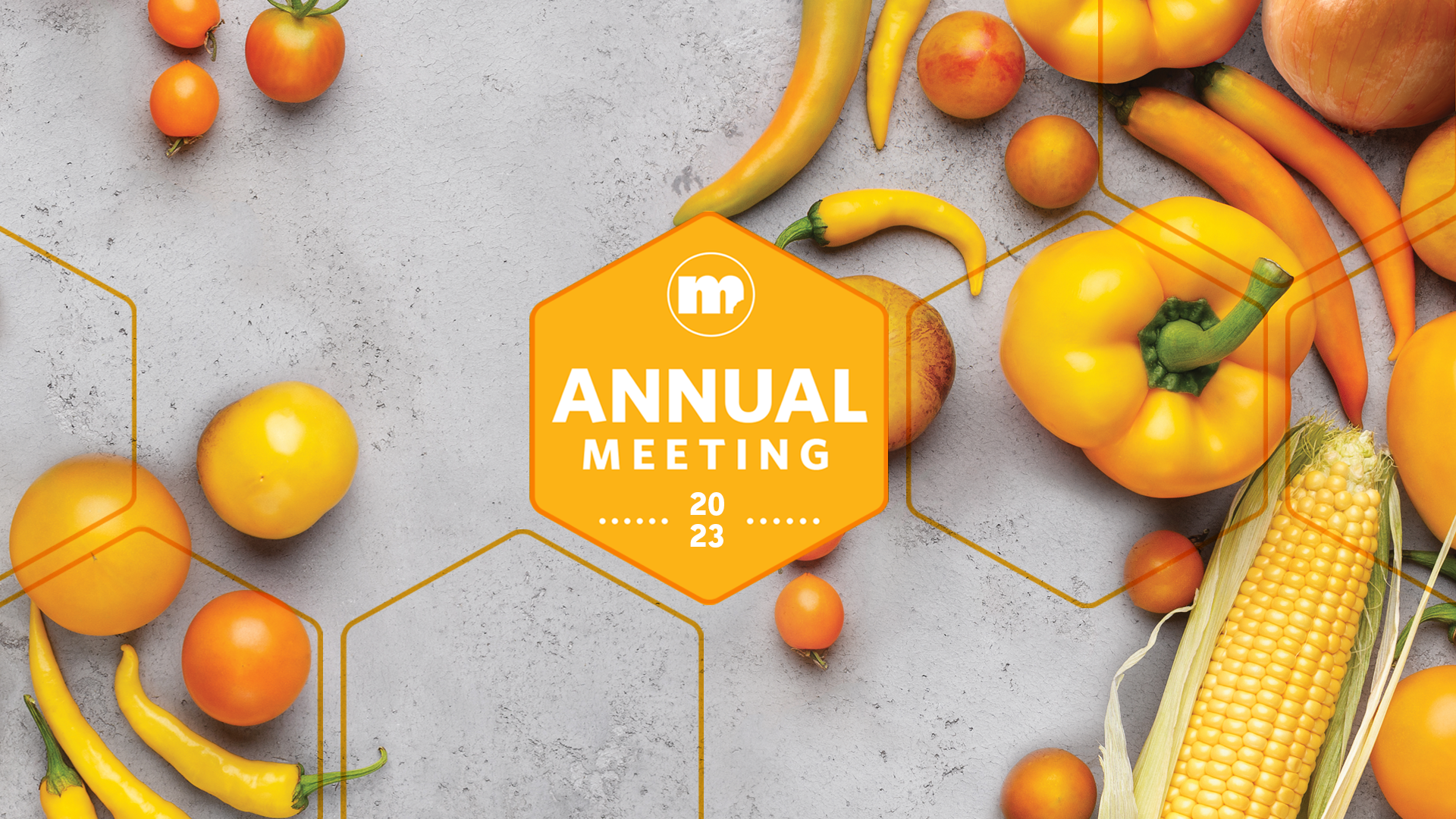 Mississippi Market's Annual Meeting and Celebration
October 26th at 5:30pm - 8:00pm
Join your co-op community at our Annual Meeting & Celebration!
Co-op member-owners are invited to come enjoy tasty food samples from some of our favorite local farmers and producers while meeting upcoming Positive Change recipients. Plus, hear Co-op updates from your board and general manager, and learn the results of this year's board election.
AGENDA
5:30-6:00 p.m. Local Farmer and producer sampling and meet at greet with Positive Change Recipients
6:00-6:40 p.m. Dinner
6:40-7:15 p.m. Annual Meeting
7:15-8:00 p.m. Celebrate with more sampling and mingling with the board and other Co-op member-owners
FEATURING
Meet and greet with the November Positive Change recipient: Women of Nations.
A delicious catered meal from Afro Deli.
Enjoy beer, wine, or a non-alcoholic beverage at the St. Paul Event Center.
Sampling with local farmers and producers.
THE MENU
A buffet, catered by Afro Deli, featuring the following dishes:*Gluten-free, Vegetarian, Vegan, and Dairy-free options are available.
Sambusa Beef or veggie pocket appetizer with homemade chutney hot sauce.
Afro Green Salad Romaine and iceberg lettuce with carrots, bell peppers, onion, tomato, and lemon dressing.
Somali Rice Basmati rice seasoned with African spices.
Afro Steak Dinner Shredded beef streak seasoned and marinated with African Spices, vegetable oil, fresh lime, cilantro, bell pepper, sweet onion, and garlic in a homemade red sauce.
Chicken Fantastic Cuts of grilled chicken with bell pepper, carrots, zucchini, and garlic in a light cream sauce.
Chicken Curry Slow-cooked chicken with bell peppers, eggplant, carrots, onions, garlic, and African spices.
Veggie Curry Eggplant, onion, zucchini, carrots, garlic, and African spices in a homemade red tomato sauce.
Baklava Layered pastry dessert made of filo pastry, filled with chopped nuts, and sweetened with syrup or honey.
TICKETS
To help us plan, tickets must be reserved in advance*.
A $5 reservation fee per person is required and includes dinner, plus one drink ticket for your choice of beer, wine, or non-alcoholic beverages. The fee will be reimbursed via a $5 Mississippi Market gift certificate receivable at the event.
*Space is limited. Cancellations must be received at least 72 hours prior to the event to receive a refund.
TRANSPORTATION AND PARKING
Support our efforts to make this a sustainable event by carpooling, ridesharing, bicycling, or taking public transit.
Parking at the St. Paul Event Center will be reimbursed with a voucher at the registration desk.
The parking ramp for St. Paul Event Center is located on 6th Street East between Wabasha Street North and Cedar Street. You will see signage for "Ramp B" with additional St. Paul Event Center. When you enter the ramp proceed to the third floor. You will continue to see St. Paul Event Center signage through the ramp. Enter the white doors and proceed down the corridor to the second set of white doors. Upon entering you will see us straight ahead. If you are parking on another floor, proceed to the white doors and down the corridor to the second set of white doors. Once inside, an elevator will be directly on your right. Proceed to the elevator and take it to the third floor. Once inside, St. Paul Event Center will be on your right.
A drop-off point is located directly in front of the building on Wabasha Street North. Enter through main doors between Walgreens and The Pillbox Tavern. Once inside, proceed down the corridor and take a left. Take the stairs up one level and St. Paul Event Center will be on your left. Take the elevator to floor three and upon exiting, St. Paul Event Center will be on your right.