Aged Cheddar Scalloped Potatoes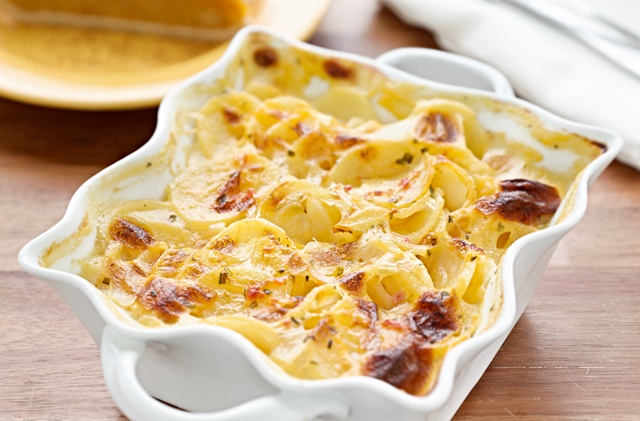 1/2

yellow onion, chopped

4

Tbsp.

butter

4

Tbsp.

all-purpose flour

2

cups

milk

1/2

cup

half-and-half

6

yellow potatoes, peeled and sliced

2

cups

aged yellow cheddar

1

pinch

salt

1

pinch

black pepper, freshly ground
Preheat oven to 350 degrees Fahrenheit. In a large pan, sauté chopped onions with butter until translucent.

In a small bowl, combine flour, salt and pepper. Stir mixture into onions. Add milk and half-and-half to pan and cook over medium heat, stirring occasionally, until mixture begins to thicken (about 3 minutes). Turn off heat.

Add 1 ½ cups grated aged yellow cheddar to the pan and stir until melted. Add sliced potatoes and stir well to combine.

Pour mixture into buttered casserole dish and cover with foil. Bake in oven for 30-35 minutes.

Remove from oven, take off foil and sprinkle remaining ½ cup grated aged yellow cheddar on top. Return to oven and bake for additional 30 minutes or until potatoes are golden brown.