Asparagus and Beans with Pasta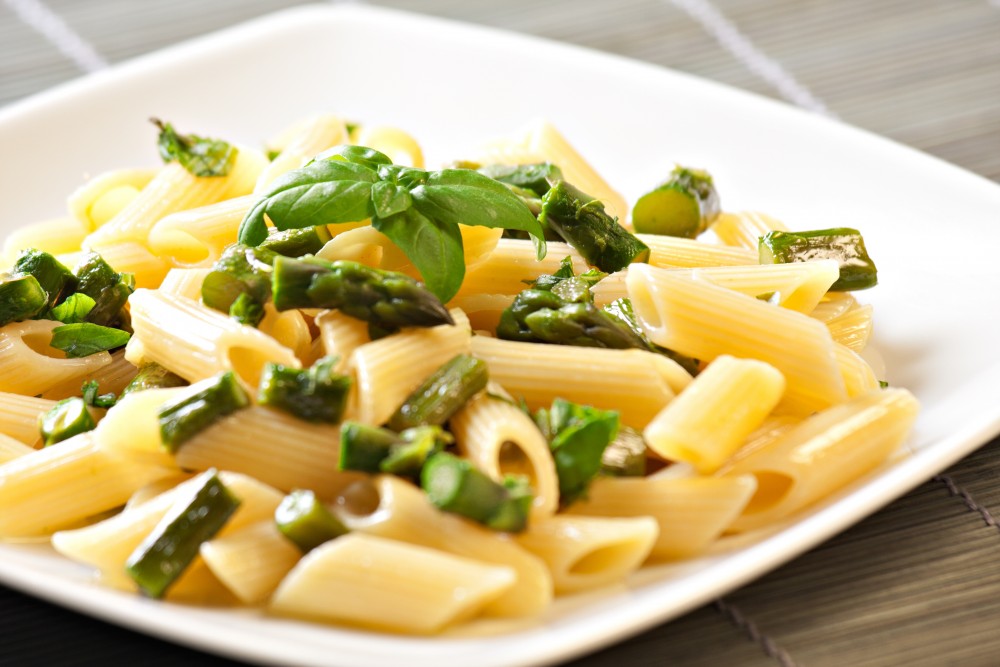 1/2

lb

penne

2

Tbsp

extra virgin olive oil

1

dried

bay leaf

1/4

cup

extra virgin olive oil

1/2

lb

thin asparagus, cut into 2-inch pieces

2

cups

white beans, cooked or canned

4

leaves

chard, stemmed and sliced diagonally

into 2-inch-wide strips

1/4

cup

water or broth

1

Tbsp

lemon zest

(save rest of lemon for later in this dish)

1

pinch

salt and pepper, to taste

2

cloves

garlic, chopped
Bring large pot of cold water to a boil, then add pasta, 2 Tbps. olive oil, bring back to a boil, then reduce to a simmer. Add a bay leaf. Cook until pasta is done; drain, put back in pot, and cover off heat.

When pasta is done, heat a heavy skillet or wok over medium-high, then add olive oil. When oil starts to ripple across bottom of pan, add asparagus. Stir frequently; add a pinch of salt. When asparagus has become done enough (but still crunchy), add white beans. You may need to add a bit more olive oil at this point.

Continue stirring until beans glisten from the oil and are well-warmed. Add strips of chard; stir until they are coated with oil. Add ¼ cup water or broth; continue cooking until chard has softened a bit.

Pour cooked pasta into large bowl; mix with beans and greens; squeeze lemon juice over the dish. Add salt and pepper incrementally. Sprinkle chopped garlic over dish and lightly stir.