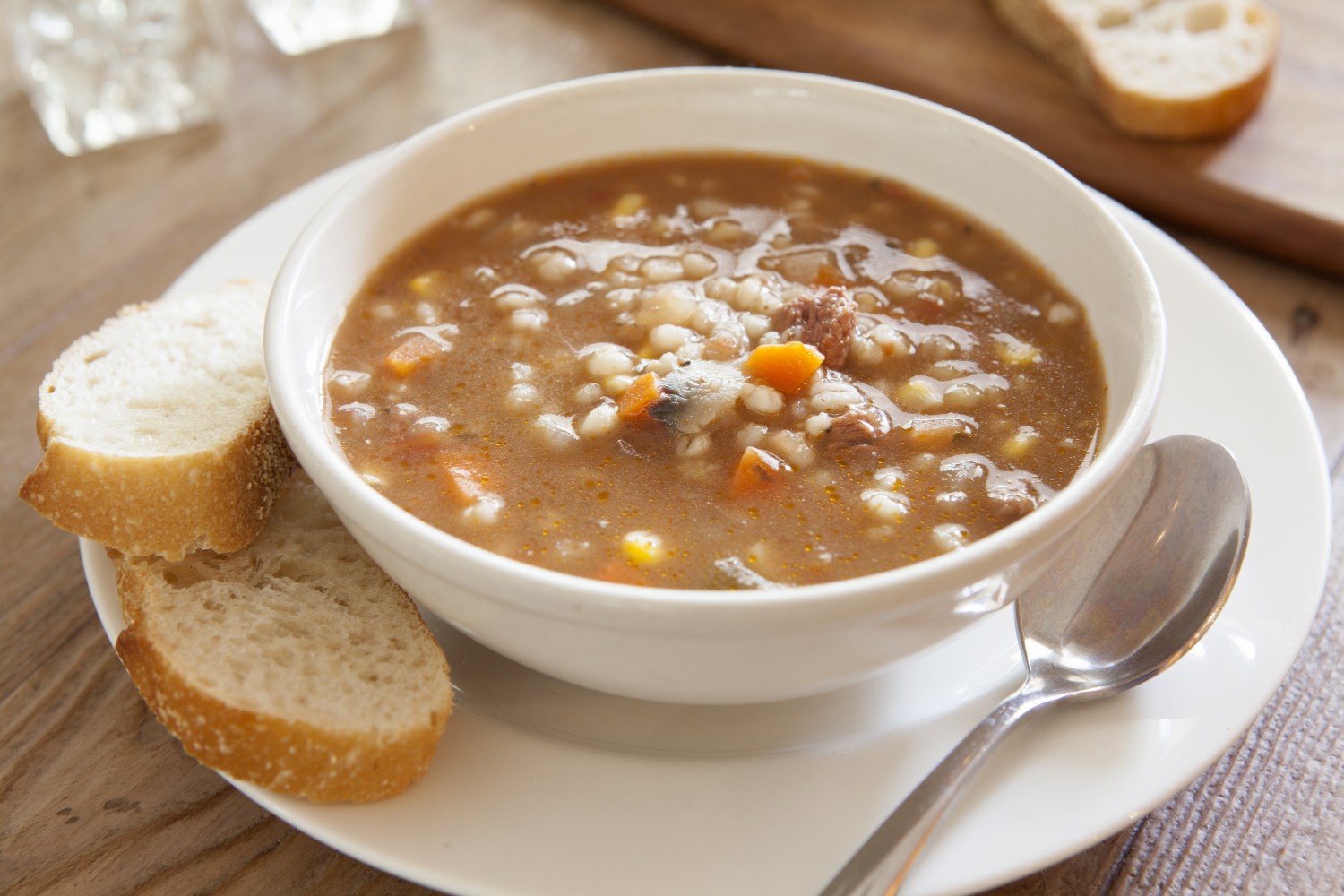 3

Tbsp

unbleached flour

1/2

tsp

salt

1

lb

lean stew meat, cut into 1" chunks

1

Tbsp

olive oil

1

large

onion, chopped

2

cloves

garlic, chopped

2

large

carrots, chopped

2

ribs

celery, chopped

15

oz

diced tomatoes, canned, with juice

1/2

cup

pearled barley

1

qt

beef stock

2

cups

water

2

tsp

dried thyme

1

leaf

bay leaf

1/2

tsp

black pepper
In a shallow bowl combine flour and salt. Dredge chunks of meat in flour mixture to coat completely.

In a large pot over medium-high heat, heat olive oil, then quickly brown chunks of beef.

To cook in a slow cooker: Use a slotted spoon to transfer the beef to the crock pot and add the remaining ingredients. Cook for 7 hours, and adjust the salt and pepper to taste.

To cook on the stovetop: Use a slotted spoon to transfer the beef to a bowl when it is browned on the outside but not cooked through. To the oil in the pan, add onions and garlic and cook until soft, about 5 minutes. Add carrots, celery, tomato, barley, stock, water, thyme, bay leaf and pepper. Bring to a boil, then reduce heat to simmer, just barely bubbling. Cook for 30 minutes, and test the barley to see if it's tender. If necessary, simmer for another 10 minutes.

Season to taste with salt and pepper. Remove bay leaf before serving.
Recipe courtesy of StrongerTogether.coop