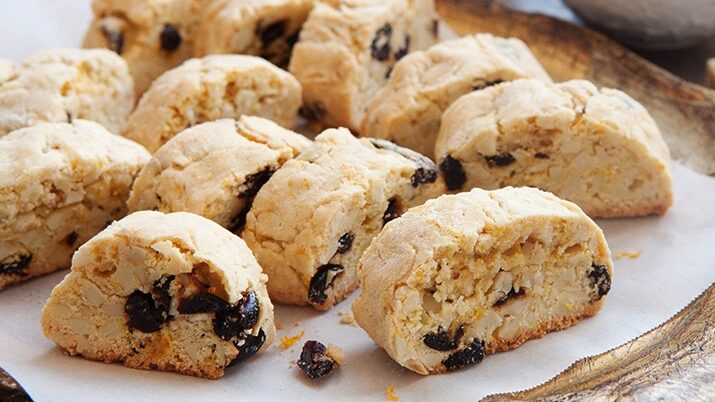 3/4

cup

sugar

1/4

cup

olive oil

2

tsp.

vanilla extract

1 1/2

tsp.

orange zest

1/2

tsp.

almond extract

2

eggs

1 3/4

cups

all-purpose flour

1

tsp.

baking powder

1/4

tsp.

salt

1/2

cup

dried cranberries

1 1/2

cups

slivered almonds
In a mixing bowl, mix together sugar and oil, then vanilla, orange zest and almond extract. Beat in the eggs until smooth.

In a separate bowl, combine flour, salt and baking powder, then stir in the dried cranberries and almonds. Stir the wet ingredients into the dry ingredients slowly to form a wet dough. Do not overmix.

Remove the dough to a floured work surface. Divide the dough into two equal pieces and form each piece into a flat log, about 2" wide and 12" long. Place each log on a parchment-lined baking sheet.

Place the baking sheet in the oven and bake for about 35 minutes, or until just lightly browned. Remove from the oven and allow to cool for 10 minutes. Reduce the oven temperature to 250⁰F.

Cut the logs diagonally into 3/4-inch slices. Place them cut-side up on the parchment-lined baking sheet and bake for 10 to 12 minutes more, or until dry. Cool completely before storing in an airtight container at room temperature.
Serve this festive biscotti with strong coffee or sweet Vin Santo wine.
Reposted with permission from grocery.coop. Find recipes and articles about your food and where it comes from at grocery.coop.