Hamantaschen Cookies with Apricot Filling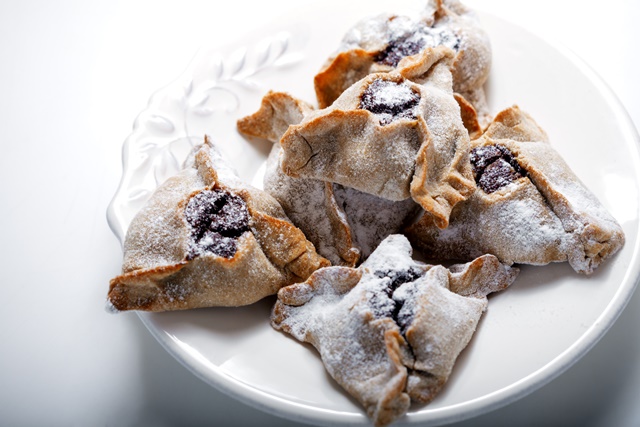 Celebrate Purim with this delicious buttery, fruit-filled hamantaschen cookie recipe. These cookies are popular treats usually made during the Jewish spring holiday. Cookies can be stuffed with a variety of sweets, including apricot, prune, chocolate-hazelnut, and poppy seed fillings, among others.
3/4

cup

unsalted butter

room temp

2/3

cup

cane sugar

1

cage-free

egg

1

tsp

vanilla extract

1

tsp

orange zest

freshly grated

2 1/4

cups

whole wheat flour

1/4

tsp

kosher salt

1-5

tsp

water

if needed
2

cups

dried apricots

1

cup

water

1/4

cup

orange juice

freshly squeezed

1/2

cup

cane sugar

1

Tbsp

lemon juice

freshly squeezed

1

pinch

kosher salt
Slice butter into 1/8" thick pieces and ad to large mixing bowl. Add 2/3 cup of cane sugar and mix well using electric mixer fo a few minutes until light and fluffy. Add egg, vanilla extract, and freshly grated orange zest. Mix again until creamy. Sift whole wheat flour and kosher salt into bowl and mix on low to incorporate.

Remove dough from mixing bowl and knead into a smooth ball. If dough ball is dry, add water 1 tsp at a time while kneading. If dough becomes too wet, try adding a small amount of flour to the dough mixture while kneading.

Place kneaded dough ball back in mixing bowl and cover with plastic wrap. Chill in fridge for at east 3 hours or overnight.
Combine all apricot filling ingredients in a medium pot and bring to a boil, stirring to ensure apricots don't stick to the bottom. Once boiling, reduce heat to medium low and cover pot. Let simmer for 30 minutes, stirring occasionally.

Remove lid after 30 minutes. If liquid remains, continue simmer for 3-5 minutes uncovered while stirring frequently. Remove apricots from stove top when only a few Tbsp of liquid remains.

Mash the apricots in the pot or an immersion blender until they become pureed. Let apricot mixture cool. You may also chill the filling in the fridge.
Preheat your oven to 350 degrees Fahrenheit. Lightly dust your work surface with whole wheat flour so that dough does not stick. Place dough ball on floured surface and use rolling pin to roll dough into 1/4" thick sheet.

Use a round cookie cutter or the bottom of a round container such as a canning jar or aluminum can to cut cookie discs from the dough sheet. Gather dough scraps and knead into another ball, use rolling pin to create another 1/4" inch sheet and repeat process.

Place tsp of apricot filling in center of cookie dough discs. Next, fold edges of cookie dough over top of the apricot filling in three steps to create a triangular shaped pouch. Leave enough room so that filling peaks through the top. Each flap of cookie dough should overlap the previous one in order to better hold in the filling when baking. Pinch each corner of the cookies to secure filling. Repeat this process for remaining dough and filling.

Place filled cookies on a lightly buttered baking sheet, evenly spaced. Place in oven and bake for 20-25 minutes until cookies are lightly golden brown. Remove cookies from oven and place on a wire cooling rack.

Like most cookies, these are best when eaten warm! To store leftovers, place in a cookie jar, plastic container, or bowl covered in plastic wrap.