Whole Wheat Penne Pasta with Pumpkin Sauce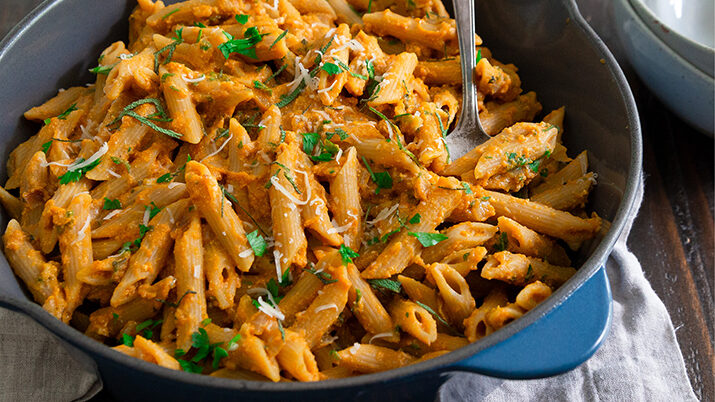 1

lb.

whole wheat penne pasta

1

Tbsp.

olive oil

1/2

cup

chopped onion

2

cloves

garlic, chopped

1

Tbsp.

fresh sage, chopped (plus more for garnish)

3/4

cup

canned pumpkin

1/2

cup

vegetable stock

1/4

cup

dry white wine

1/2

tsp.

salt

1/2

tsp.

freshly ground black pepper

1/4

cup

whole milk Greek yogurt

3/4

cup

grated parmesan cheese

1/2

cup

fresh parsley, chopped
Place a large pot of salted water on the stove for the pasta and begin heating to a boil. Cook the pasta according to package directions.

Meanwhile, make the sauce. In a large skillet, heat the olive oil over medium-high heat and add the onion. Sauté, stirring until the onions sizzle, then reduce heat to medium-low. Cook for at least 10 minutes. When the onions are soft and golden, add the garlic and sage, and stir for a few seconds, until fragrant. Stir in the pumpkin, vegetable stock, wine, salt and pepper and whisk to mix. Turn the heat to medium-high and bring to a boil, then reduce to medium and simmer vigorously, stirring frequently, about 5 minutes or until thickened. While the mixture is still hot, whisk in the yogurt and Parmesan cheese, then remove from heat.

Drain pasta and toss with the sauce and parsley. Serve hot.
Reposted with permission from grocery.coop. Find recipes and articles about your food and where it comes from at grocery.coop.