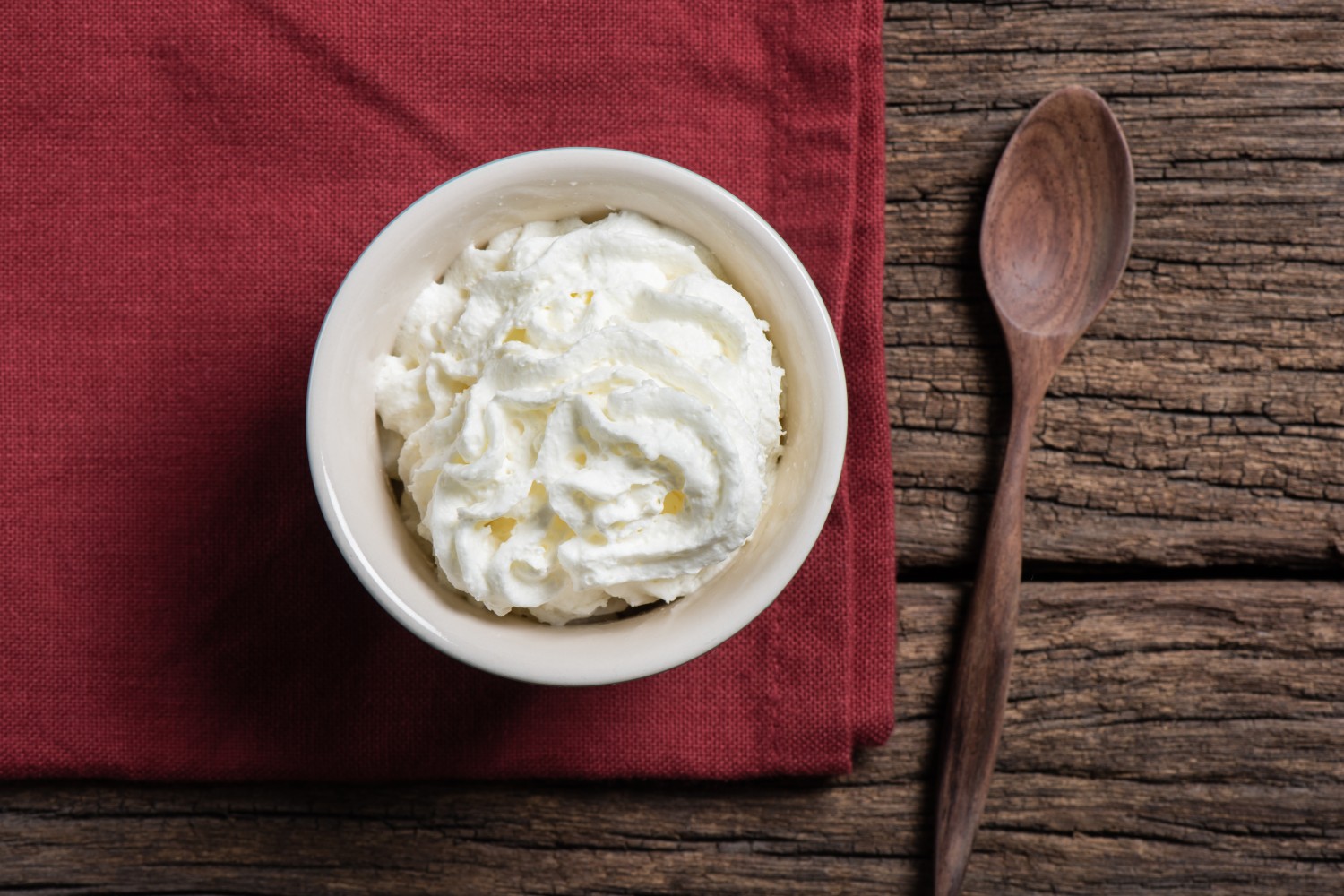 1

lb

red rhubarb

1-2

pinches

white granulated sugar, to taste

1

pinch

sea salt

1

tsp

butter, unsalted
Ingredients for the meringue
3

large

eggs

1

pinch

cream of tartar

2

cups

sugar, super fine

(you can use regular granulated, you'll just need to beat it longer)

1

tsp

vanilla extract

1

tsp

vinegar

1/2

cup

sliced almonds
Ingredients for whipped cream
1

cup

heavy cream

2

Tbsp

granulated white sugar

1

tsp

vanilla extract

1/4

tsp

almond extract
Slice the rhubarb crosswise into 1/2-inch slices; place in a mixing bowl and sprinkle sugar over it to lightly coat all of the pieces. Add a pinch of sea salt and allow the rhubarb and sugar to sit for about 1 hour.

When the fruit has given up a lot of its liquid, taste to see if it is sweet enough—don't oversweeten, because tart rhubarb makes a nice contrast to the sweet meringue.

Put the fruit mixture into a heavy saucepan with 1 Tbsp. water and cook at a very low temperature until you can run a sharp knife easily through a piece of rhubarb. Add about 1 tsp. of unsalted butter at the end. Set aside to cool. The mixture should be thick.
Beat egg whites with a mixer until they become frothy; add cream of tartar, and then beat on high until soft peaks form. Add sugar gradually, beating until egg whites no longer feel granular.

Beat in vanilla and vinegar. Continue beating until egg whites are stiff and glossy.

Form the two meringue layers needed for the schaum torte by placing a sheet of parchment paper or aluminum foil on a cookie sheet and spooning the meringue onto the sheet in two 9-inch circles (you can trace these onto the parchment by turning over a plate and tracing the outline with a ballpoint—children love to take care of preparing the meringues). Use a wetted knife to smooth out the meringues.

Bake the meringue for 1–1 1/2 hours, then turn off heat, open the door a crack, and leave meringues in oven to cool.

In a small, heavy, dry skillet, heat sliced almonds, watching them constantly: you want them to become golden but not to become brown and/or burnt. When they have turned golden, pour them off onto a plate to stop them from cooking further.
Beat cream with sugar with a balloon whisk; when it starts to thicken, add vanilla and almond extract. Be careful not to overbeat—your aim is to produce a soft, silky cream—not butter!