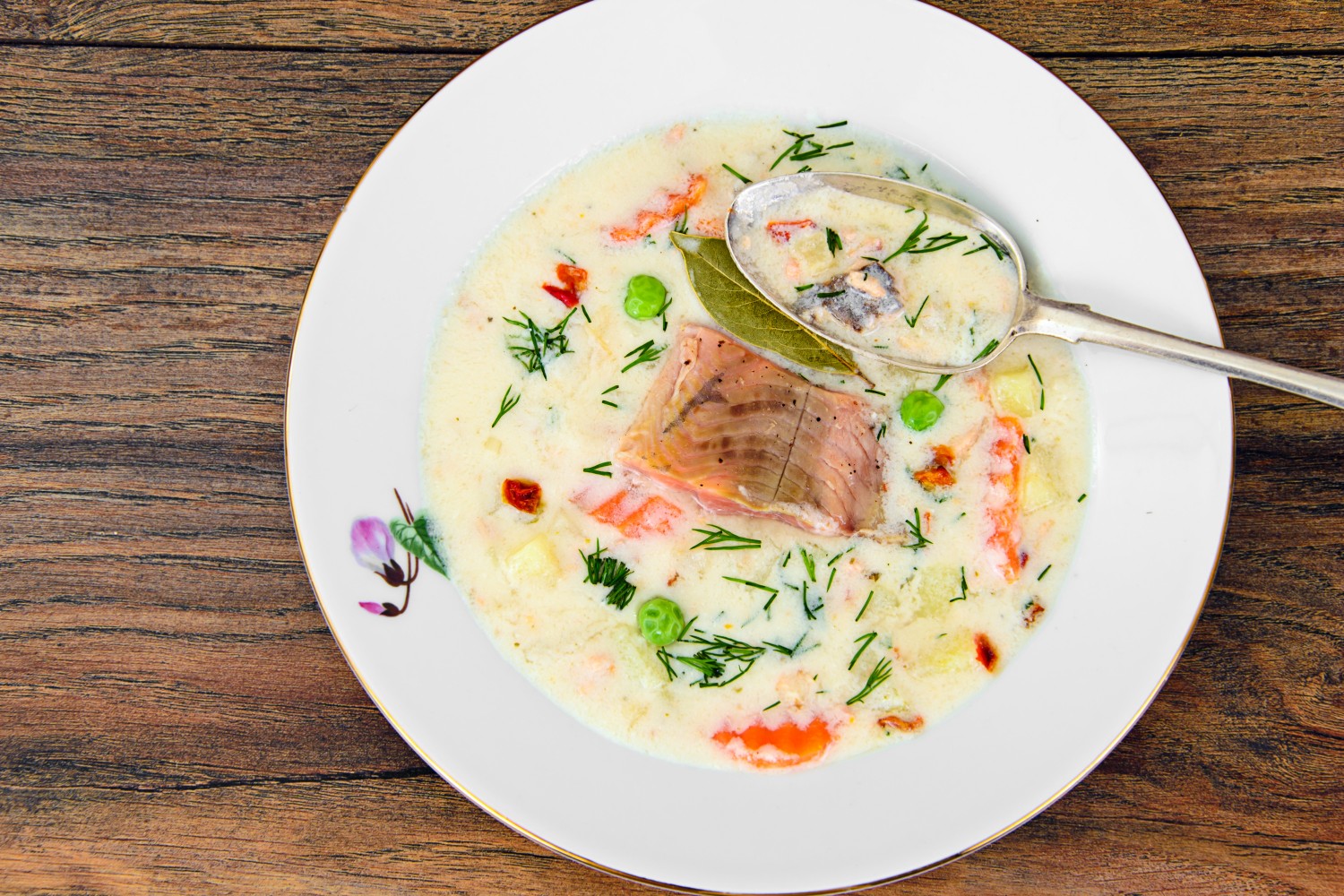 1

slice

pancetta, chopped

1

small

red onion, chopped

1

small

leek, thinly sliced

1

stalk

celery, sliced

1/2

small

sweet red pepper, chopped

3

small-medium

red or yellow boiling potatoes, skin on

1

dry

bay leaf

1

cup

heavy cream or whole milk

2-3

oz

cooked salmon

(approx. 1/4-1/2 cup)

1

cup

frozen corn

2

Tbsp

parsley, chopped

1

pinch

sea salt and pepper, to taste

1-2

Tbsp

dry sherry

(optional)

1

Tbsp

butter

1-2

tsp

fresh dill, finely chopped

(optional)
Heat a heavy, deep pan, such as a Dutch oven, on medium-high. When it becomes hot, add pancetta. When the meat has become crispy and its fat coats the bottom of the pan, add onion, leek, celery, and pepper. Stir occasionally until onion and leek become transparent. (If you need a little more fat than the pancetta provides, use extra-virgin olive oil.)

Add potato chunks and bay leaf, then enough cold water to cover the vegetables. Turn down heat to medium; cover, and allow to cook until you can run a knife easily through a potato chunk. Add heavy cream or whole milk. (Cream will make a silkier and tastier chowder. If you use milk, you may want to stir in cracker crumbs to thicken the chowder up a bit.) Turn down heat to medium-low and allow the chowder to heat thoroughly.

Add salmon and frozen corn; simmer until corn is cooked. Taste for seasoning; you will probably have to add a bit of sea salt and some ground pepper. Add the sherry, if you like.

When the seasonings are to your liking, add a small pat of butter to the chowder and allow it to melt; this will add to the silkiness of this plush dish. Just before serving, you may want to stir in some freshly chopped dill.
A fine bread and a small salad are all you need to make this a very satisfying meal.