Skillet Steak with Sautéed Kale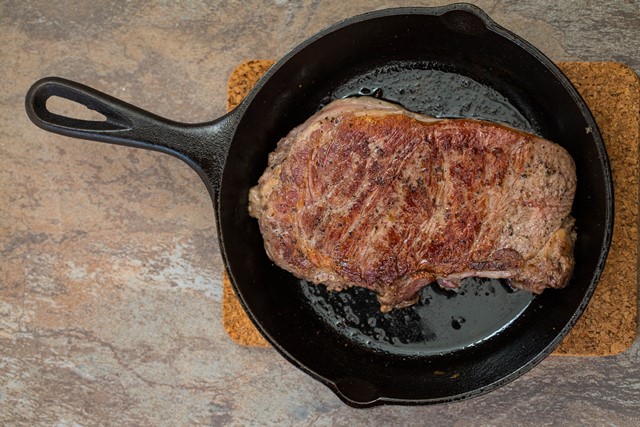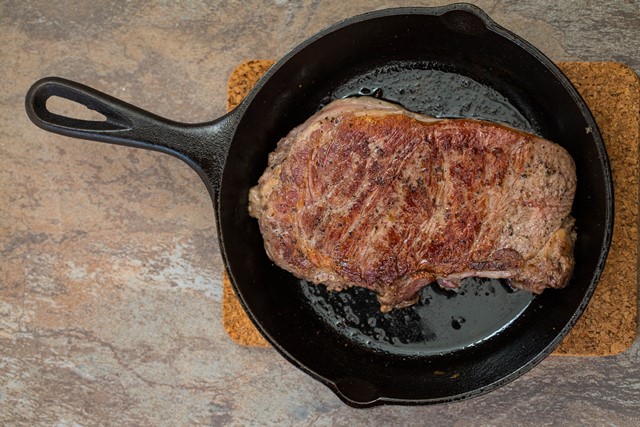 1

bunch

Featherstone Farms organic kale

2

Thousand Hills 100% grass-fed beef New York strip steaks

1

large

sweet yellow onion, thinly sliced

1

Tbsp

extra virgin olive oil

1

Tbsp

red wine vinegar

1

tsp

honey

2

Tbsp

butter

1

tsp

kosher salt

1/2

tsp

black pepper, freshly ground

8

oz

blue cheese, crumbled

optional
Preheat oven to 425 degrees.

Chop kale and remove stems.

Sprinkle steaks with salt and freshly ground black pepper. Cook steaks in hot oil in a large skillet over medium-high heat, roughly 3 minutes on each side to sear. Remove steaks from skillet and place on wire rack in a pan. Cook steaks in oven for 5-6 minutes. Remove when done and cover pan with foil to keep warm before serving.

Wipe skillet clean and add butter, melt over medium-high heat. Add sliced onion and sauté for 4-5 minutes or until tender and translucent.

Add chopped kale to onion mixture and sauté for 4-5 minutes or until kale is slightly wilted. Stir in red wine vinegar and honey, season with salt and pepper.

Slice steak into strips and plate. Serve with sautéed kale and onion. If desired, also sprinkle with crumbled blue cheese.
Recipe adapted from myrecipes.com