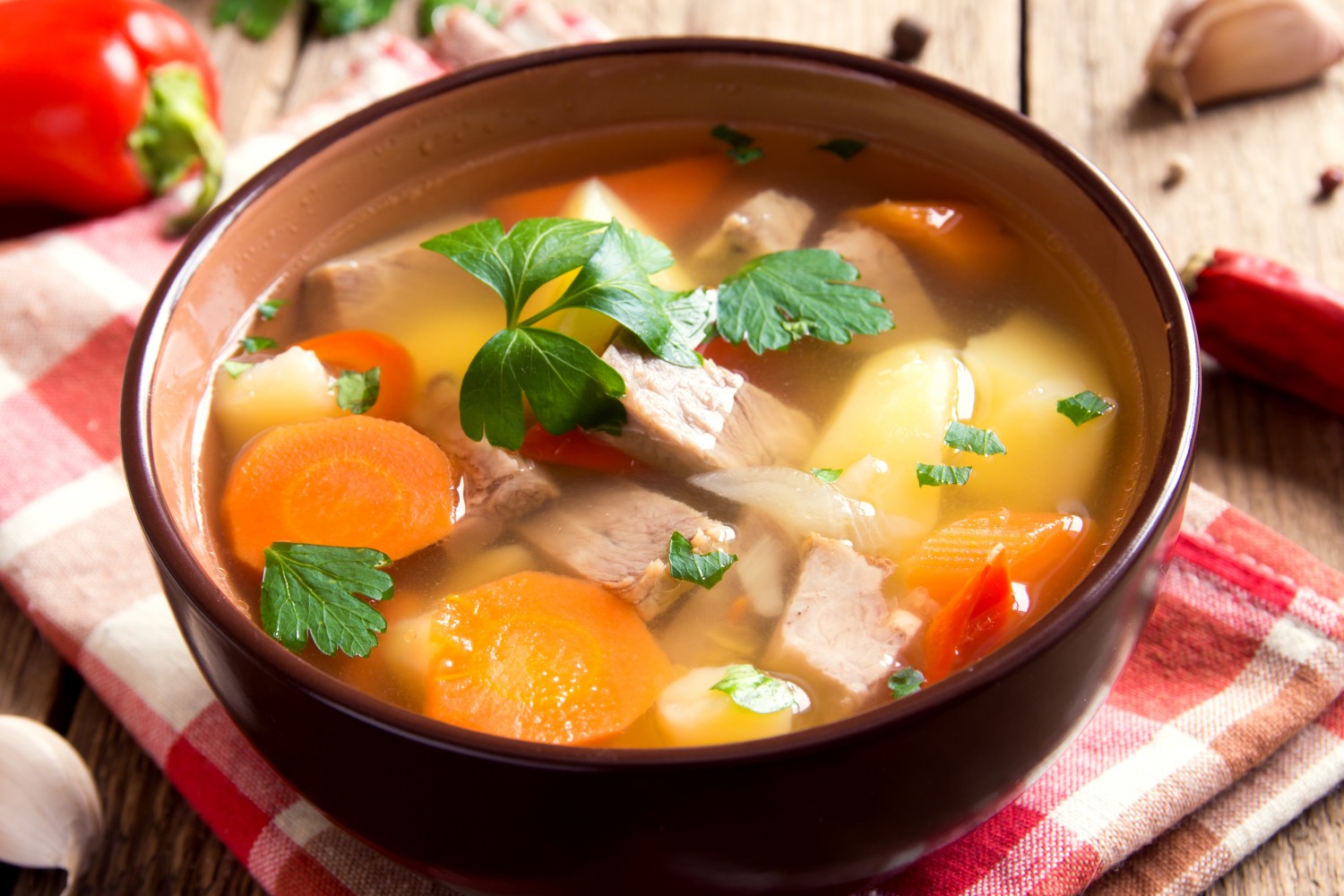 Lamb stew can be light and spring-y or winter-heavy: it all depends on what you add to it. This very simplified version of a classic western European lamb stew celebrates spring vegetables as much as it does lamb meat. We source our lamb locally from Shepherd Song Farm in Downing, WI.
2

Tbsp

extra virgin olive oil

1

slice

bacon, cut into matchsticks

2

lbs

lamb stew meat, patted dry

1

pinch

sea salt and pepper, to taste

1

cup

shallots, chopped

2

canned

plum tomatoes, squeezed

2

whole

carrots, diced

2-3

cloves

garlic, finely chopped

1

cup

dry white wine

1

cup

chicken or vegetable stock

4

sprigs

fresh thyme

4-5

whole

fingerling potatoes, each cut into 3 pieces

1

cup

fresh green beans, tipped and cut into 2 pieces

1

cup

frozen green peas

2

Tbsp

sherry

1

tsp

lemon juice or apple cide vinegar, to taste

(optional)

1

tsp

fresh parsley, chopped
Heat a heavy Dutch oven or pot on MEDIUM, and when hot, add bacon or pancetta. Cook until it becomes browned and slightly crisped. If enough fat has tried out, use that to brown the dried-off stew meat. If needed, add olive oil. Brown meat, adding a sprinkling of salt and pepper. Don't over-stir meat, or it won't become nicely seared. Remove meat to a plate, and add onion or shallot; cook until it becomes transparent. Add tomatoes, carrot, stir to coat, then garlic.

Return meat and any juices to pot, add wine, stock, thyme, and potatoes. Turn heat down to SIMMER, cover pot, and cook in oven until meat and carrots are tender. Note: You can continue cooking the stew on top of the stove, but it will cook more evenly in the oven.

Return pot to stovetop and add green beans; cook, partly covered, for 2 minutes. Add peas, stir in, then taste the stew's liquid. Adjust salt and pepper if you need to, then add sherry. Taste again; if the flavor needs a bit of brightening, add a small squeeze of lemon juice or a teaspoon of apple cider vinegar. Top stew with parsley, and serve it forth.