Turkey Banh Mi with Quick-Pickled Cranberries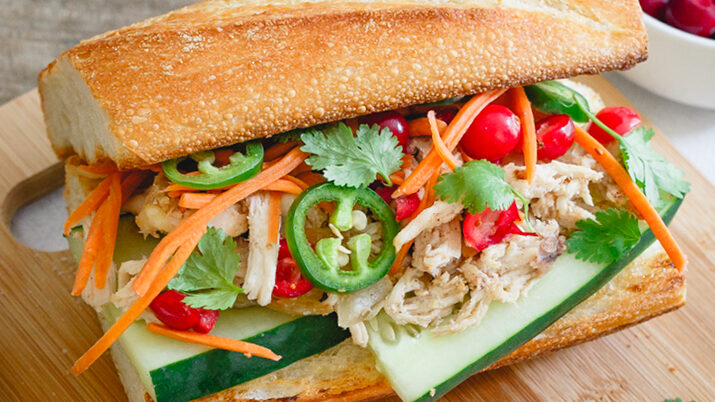 Quick-Pickled Cranberries
1/2

cup

sugar

1/2

cup

rice vinegar

1/2

tsp.

salt

1/2

cup

chopped cranberries

1

cup

shredded carrot
1 or 2

baguettes, cut into four 6-inch lengths

4

Tbsp.

mayonnaise

1

tsp.

vegetable oil

1

small onion, chopped

4

cloves

garlic, chopped

1

Tbsp.

chopped fresh ginger

2

cups

shredded turkey or chicken

2

Tbsp.

fish sauce, soy sauce or tamari (more if needed)

1

tsp.

five-spice powder

1

Tbsp.

sugar

12

slices

cucumber

1

small

jalapeño, sliced

1/2

cup

fresh cilantro, torn

Sriracha sauce (optional)
In a medium bowl, combine the sugar, rice vinegar and salt, then stir to combine. Add the cranberries and carrots and toss to coat. Let stand at room temperature while you make the rest of the sandwich.

Preheat the broiler. Slice the baguette pieces almost all the way through lengthwise and open each like a book. Spread a tablespoon of mayo on the cut sides of each piece. Place on a sheet pan and reserve.

In a large saute pan over medium heat, drizzle the oil and add the onion. Stir for 5 minutes, until softened. Add the garlic and ginger and stir for a minute, then add the turkey and sprinkle with fish sauce, five-spice powder and sugar. Stir until the turkey is heated through. Remove from heat and keep warm.

Place the prepared baguette slices under the broiler and broil until the mayonnaise is bubbly. Fill each baguette with the turkey mixture, then top it with cucumber slices, cranberry mixture, jalapeño and cilantro. If desired, drizzle with Sriracha sauce. Serve immediately.
Posted by permission from grocery.coop. Find recipes and articles about your food and where it comes from at grocery.coop.