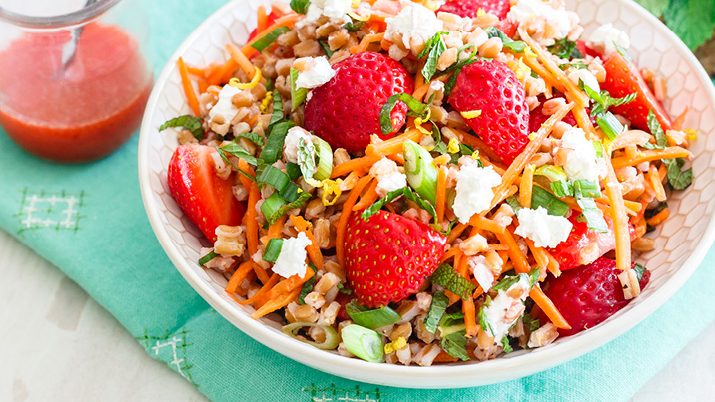 1

cup

wheatberries

1

lb

strawberries, hulled and halved

2

Tbsp.

fresh lemon juice

2

Tbsp.

honey

1/2

tsp.

salt

1/4

tsp.

freshly ground black pepper

3

Tbsp.

olive oil

1

large carrot, shredded

2

medium scallions, sliced

1/2

cup

fresh mint, slivered

2

tsp.

lemon zest

4

oz.

crumbled goat cheese
In a 1-quart pot, bring 4 cups of water to a boil. Add the wheatberries and return to a boil, then reduce the heat to a simmer. Cover and cook for 45 minutes. When the grain is tender, drain and rinse with cold water, drain again, and place in a large bowl. Let the wheatberries cool to room temperature.

Place four small strawberries in a food processor or blender and puree. Add the lemon juice and honey and process to mix. Add the salt and pepper, replace the lid, and drizzle in the oil with the machine running.

Pour the dressing over the wheatberries, then add the halved strawberries, shredded carrot, scallions, mint and lemon zest. Sprinkle with crumbled goat cheese.
Recipe by Co+op, welcome to the table.
If you're bringing this salad to a picnic, pack the crumbled goat cheese and strawberries in separate containers from the salad and sprinkle on just before serving.