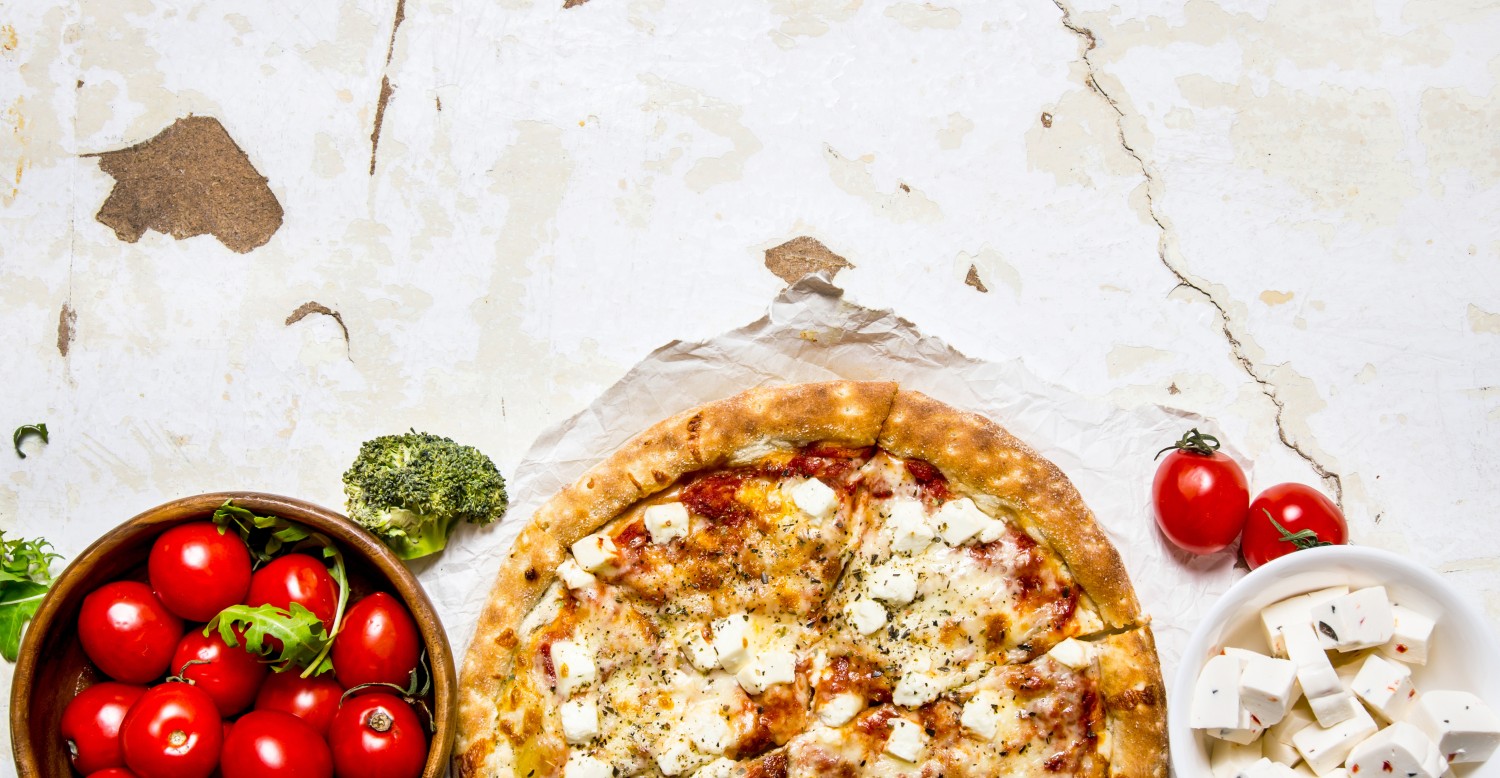 Besides its wonderful taste and lively, vivid appearance, this pizza is terrific year-round because it tastes as good made in winter with Muir Glen organic plum tomatoes as with summer's freshest heirlooms.
Course

Main Dish, Side dish

Cuisine

Vegetarian
1/3

of

Basic Pizza Dough recipe

(see notes)

1

small

red onion, thinly sliced

1

large

fresh tomato, thinly chopped

(or 3 Muir Glen plum tomatoes, squeezed and chopped)

1/2

cup

parmesan, freshly grated

1/2

cup

Romano cheese, freshly grated

1

Tbsp

cornmeal, coarsely ground

1-2

tsp

extra virgin olive oil
An hour before baking your pizza with fresh dough, turn the oven as high as it will go. (If you're working with frozen dough, start 1.5 hours before you are ready to bake.) Put your baking stone, clay saucer, or 10–12-inch cast iron skillet in the oven. Leave it there until you are ready to bake your pizza so it becomes blazing hot.

Sprinkle a generous handful of flour on a working surface and put your dough on it, turning it to coat it with flour. Roll out the dough until it is about 10–12 inches in diameter. If you want it really round, keep turning the dough as you roll it; if you like a shaggy shape, simply roll it out until it's about 1/4-inch thick. You can roll it with a pie pin or put your hands under the dough and stretch it across your knuckles.

Slice onion very thinly; squeeze the juice out of the canned tomatoes and roughly chop or tear them apart. If you're using fresh tomatoes, slice them thinly or chop them roughly.

Grate the two cheeses and mix them thoroughly.

When oven has been heating for an hour, remove clay saucer or skillet from oven and place on top of stove. Immediately sprinkle cornmeal into it, and lay pizza dough on top of cornmeal.

Working as quickly as you can, layer pizza toppings in this order: • thinly sliced onion • tomatoes • mixture of cheeses (If you are using a pizza stone and peel, sprinkle cornmeal on your peel, place dough on peel, add toppings, and slide pizza onto the stone.)

Bake until edges of pizza crust are browning nicely. Turn the skillet or saucer so that pizza browns evenly.

Bake until edges of crust have turned a deep brown and cheese is bubbly and melted.

Remove pizza from oven. Place it on a cooling rack over a sheet of newspaper.

Using a basting brush, brush the edges of the pizza sparingly with the olive oil—you don't want to drown the pizza! Drizzle the top of your pizza with the remaining olive oil to taste.
Link basic pizza dough recipe here when it is live.