Budget-friendly Sustainability
Everyone is in a different spot in their journey to sustainable living.
With all the eco-friendly products out there, you may be unsure where to start and what products are best. While there are many options to invest in, from reusable silicone storage bags and stainless-steel straws to mason jars and package-free shampoo, the most eco- and wallet-friendly option is actually to first use up whatever traditionally non-sustainable items you already have. Because reducing and reusing are the most effective methods in the reduce-reuse-recycle trifecta.
If you don't know where or how to start, pick one area to focus on. And remember, enjoy the experience and the journey! Have a DIY project night — reminisce as you repurpose a beloved old T-shirt into wipe-up rags for the kitchen, relish in the satisfaction of making your own simple shopping bags, and know you are contributing to less waste in the world.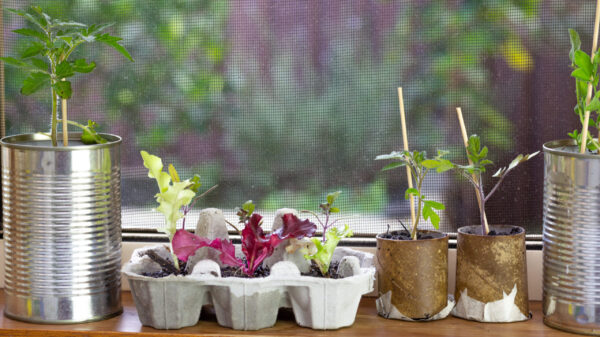 Packaging
Wash and reuse plastic sandwich baggies to store non-food items.
Reuse bread bags to pick up pet waste.
Reuse plastic clamshell containers, metal cans, or egg cartons for planting microgreens or windowsill plants. Pro tip: You can also save your egg cartons and bring them to the co-op to get 10 cents off when you pack your own bulk eggs!
Once you have used all the product inside, wash and dry the containers that held your dish soap, cooking oil, shampoo, hand soap, condiments, yogurt, spices, etc., and then refill them in our bulk section. You can find a wide array of liquid and dry goods! Pro tip: Remove sticky labels by soaking your containers in hot, soapy water. If there's lingering glue, create a paste out of equal parts baking soda and oil, let it set on the residue, and scrub off.
Wash and reuse aluminum foil.
Repurpose fabrics to make shopping bags, to use in the kitchen instead of paper towels or even to wrap presents! If you have some old fabric that's 100% cotton, transform it into DIY beeswax wraps for keeping foods fresh. Pro tip: You can find beeswax beads in our bulk section!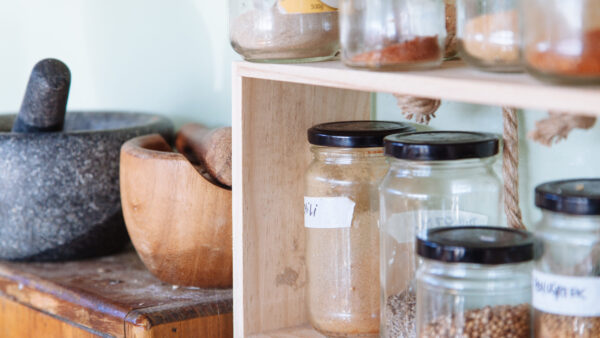 Food-Prep
Buy produce that's in season — it will be cheaper and often local! If you're not ready to enjoy it yet, chop and freeze it in reusable, freezer-safe containers; this will help you reduce plastic consumption by not buying prepackaged frozen veggies. Same with drying your own herbs or fruits.
Shop bulk as much as possible — some items are up to 50% cheaper than if you bought them already packaged and branded! This also lets you buy only the amount you need, instead of paying more for too much product.
Enjoy free, homemade stock. Keep a freezer-safe bag or container in your freezer and fill it with veggie scraps such as carrot peels, celery ends, onion skins, etc. If you eat meat, you can also add leftover bones. Once the bag is full, you're ready to boil the contents into a delicious, nutritious stock for soups, stews and other cooking.