These recipes can be made independently or together as part of meal prepping for the entire week. The focus here is on cutting some corners to save time while creating nutrient-rich and tasty meals to fuel the day.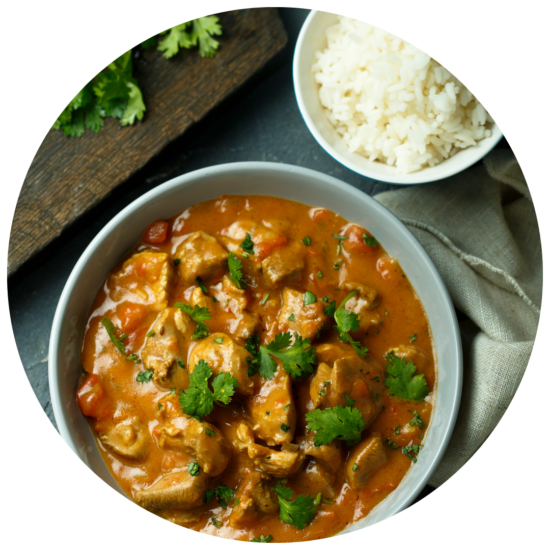 Chicken Thighs & Peppers in Simmer Sauce
Ingredients
1 jar Maya Kaimal Indian Simmer Sauce
1 lb. chicken thighs, cut into chunks (this can easily be made vegetarian by subbing 1 can chickpeas)
1 Tbsp. olive oil
1 bell pepper, chopped
Cooked basmati rice pack
Instructions
Heat olive oil in a pan. Add the chopped peppers and sauté for 2 minutes.
Add chicken thighs and brown for 2 minutes.
Add simmer sauce and cover. Simmer over low heat, stirring occasionally.
Cook for 10-15 minutes until the chicken reaches at least 165°F. If the sauce gets too thick, add some water and stir.
Heat rice based on package directions. Serve curry over rice.
Eat right away or put in airtight containers for quick lunches.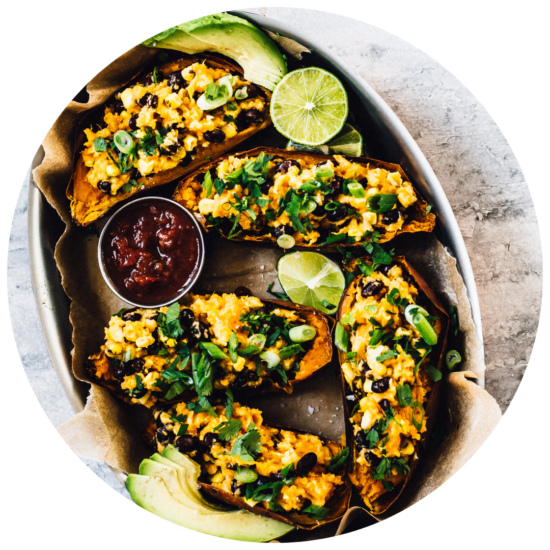 BBQ Sweet Potatoes
Ingredients
4 sweet potatoes
2 chicken breasts
Triple Crown BBQ sauce
1 can of black beans
4 oz. shredded cheddar
1 avocado, sliced
1 green onion, chopped
Instructions
Sweet Potato:
Place a baking sheet in the oven and preheat to 375°F.
Cut sweet potatoes in half lengthwise and oil the cut sides. Place cut-side down on the baking sheet — it will sizzle because the pan is hot. (This is good; it means less sticking and easier cleanup!) Baking will depend on the size of your taters; 25-35 minutes is usually the sweet spot.
Chicken:
Toss chicken breasts with olive oil, salt and pepper. Bake for 16-22 minutes until the internal temperature is 165°F.
Let cool a bit, and then shred with a fork. Mix shredded chicken with a healthy amount of BBQ sauce.
Assembly:
Take half of the sweet potato. Fluff it with a fork and make some space for your toppings.
Top with chicken, black beans, cheese, green onion, avocado, and any other ingredients that sound good to you.
Eat right away or put in airtight containers for quick lunches.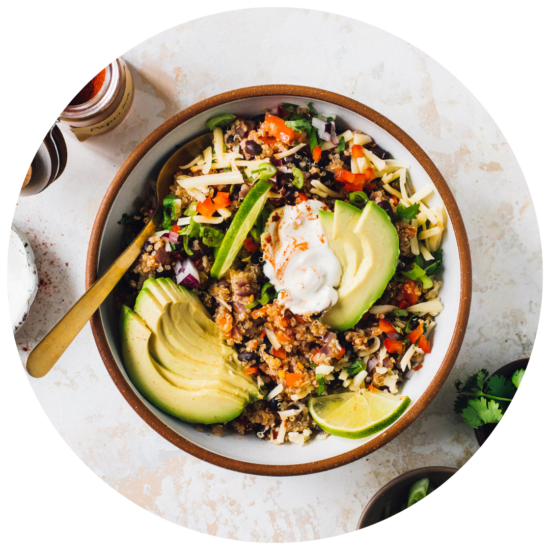 Lentil, Mushroom & Quinoa Taco Bowls
Ingredients
8 oz. mushrooms
1 can lentils
½ cup quinoa
1 packet of taco seasoning
Cooked rice
1 onion
1 yellow bell pepper
1 red bell pepper
Optional toppings: sour cream, hot sauce, shredded cheese, etc.
Instructions
Rinse quinoa, put in a pan with 1 cup water, and bring to a boil. Reduce heat to low and simmer for 15 minutes or until water has completely absorbed.
Drain and rinse lentils.
Chop and sauté onion and peppers. Set aside.
Chop and sauté mushrooms. Add cooked quinoa and drained lentils to the pan.
Add taco seasoning and ½ cup water and simmer until the sauce thickens.
Layer rice, lentil mixture, onions, and peppers.
Add any additional toppings.