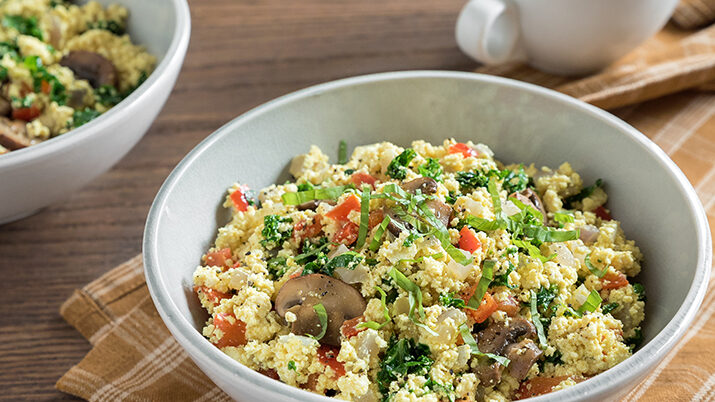 2

Tbsp.

olive oil

1

cup

diced red onion

1

cup

sliced mushrooms

1/2

bunch kale, shredded

1

cup

diced red peppers

2-3

cloves

garlic, chopped

1

lb.

extra firm tofu

1

Tbsp.

Dijon mustard

3

Tbsp.

nutritional yeast

1/4

tsp.

ground turmeric

3/4

tsp.

smoked sea salt

1/8

tsp.

black pepper

4

fresh basil leaves, chiffonade
In a large skillet, heat olive oil over medium-high heat and saute the red onion, mushrooms, kale, peppers and garlic for about 10 minutes, until soft.

While the vegetables are cooking, drain and crumble the tofu. Mix the tofu with the Dijon, nutritional yeast, turmeric, salt and pepper.

Add the tofu mixture to the skillet and cook until heated, about 10 minutes. Sprinkle with the basil and serve.
Whether you serve this scramble for breakfast, or breakfast-as-dinner, a jar of hot sauce or salsa on the side will spice things up nicely!
Reposted with permission from grocery.coop. Find recipes and articles about your food and where it comes from at grocery.coop.