Lachelle's Purple Sweet Potato Cobbler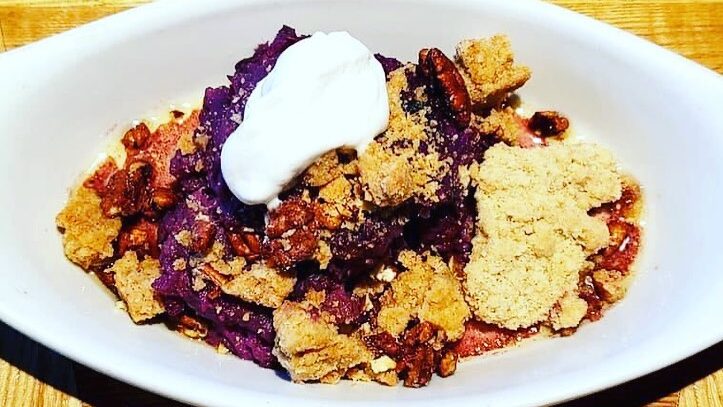 Chef Lachelle has been a dynamic force on the Twin Cities food scene and is known for cooking globally inspired comfort food that thwarts unhealthy stereotypes and fuses in global flavors. She demonstrated how to make this sweet potato cobbler as part of last year's Beyond Soul Food class series, which you can watch recordings of here.

3

purple sweet potatoes

1

stick (1/2 cup)

unsalted butter

3/4

cup

granulated sugar

3/4

cup

light brown sugar

1 1/2

cups

hot water

1

tsp.

vanilla extract

1

tsp.

ground cinnamon
2

cups

gluten-free flour

1/2

cup

cane sugar

1/2

cup

brown sugar

2

tsp.

baking powder

1

tsp.

salt

12

Tbsp.

unsalted butter, chilled and cut into small pieces

1/4

cup

cold water

Whipped cream, for topping
Heat the oven to 350° F. Have ready an 8 x 12 shallow baking dish.

Bring a large saucepan of water to a boil. Meanwhile, peel the sweet potatoes. Slice them into rounds about 1/2-inch thick and add them to the boiling water. Cover the pot and cook for about 12 to 14 minutes, or just until they are tender but still firm in the center when pierced with a fork. Remove from heat and drain.

In a bowl, combine the butter, granulated sugar, brown sugar, hot water, vanilla and cinnamon to make a syrup. Stir until the sugars are dissolved.

Arrange the sweet potatoes in the baking dish and pour the syrup mixture over the sweet potatoes.

In a large bowl, combine flour, sugars, baking powder and salt. Blend in butter with your fingertips, or a pastry blender, until mixture resembles coarse meal. Stir in water until just combined. Drop chunks of topping all over the sweet potato mixture. Set your baking dish on a baking sheet, as cobbler can drip.

Bake until topping is golden, about 30 minutes. Serve with whipped cream.
Photo and recipe by Lachelle Cunningham.